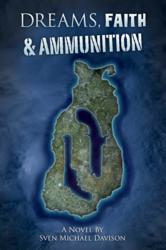 If Bollywood made books, they might produce something like 'Dreams, Faith & Ammunition.
Los Angeles, CA (PRWEB) June 25, 2012
"If Bollywood made books, they might produce something like 'Dreams, Faith & Ammunition.' There's even a bit of live performance singing in it." Author Sven Michael Davison says with a smirk. The novel chronicles life on Beaver Island, which is roughly the size of Manhattan and located in northern Lake Michigan. The story is two-thirds late twentieth century and one third mid-nineteenth, with a peppering of early twentieth for good measure.
Two men, three timelines, one location; Dreams, Faith & Ammunition is a novel about seeking the Promised Land. In the nineteenth century, one man seeks it literally, first by following Joseph Smith, and then James Strang to build a Kingdom of God on earth. In the twentieth century, another man envisions the Promised Land as the rewards and lifestyle he will achieve once he finishes his great American novel.
Both men move to Beaver Island, Michigan to fulfill their ideals. Both men face unforeseen obstacles and must overcome personal demons in their journey of faith and suicidal depression.
In the modern setting, the main character pins his hopes of overcoming suicidal tendencies on selling a movie script in Hollywood. After a porn company converts his horror-comedy screenplay into a straight-to-video disaster, he decides to "pull a Thoreau" and escape to Beaver Island, Michigan, thinking he can hoist himself out of depression by writing the great American novel.
He soon realizes that the island's inhabitants are reminiscent of characters from "Northern Exposure," "The Milagro Beanfield War" and "All Creatures Great and Small." One islander he meets, a polygamist, allows him to read his ancestor's private journal, which documents a plan to carve a Mormon nation out of the Great Lakes region. The attempt failed when the group's leader was assassinated under the watch of a U.S. warship and a host of Marines. As fate would have it, the modern character faces his own mortality when he find himself staring down the barrel of a gun with his thumb on the trigger. This is a story of redemption and battling internal and external elements in order to reignite a passion for life.
"Dreams, Faith & Ammunition" is available exclusively on Kindle Direct Publishing. The novel will be free on certain days during the month of July. Starting in July, Davison's other novels "Blockbuster" and "State of Mind" will be available for .99 cents in eBook form for a limited time. The paper versions will remain at cover price.
"Sate of Union," the sequel to "State of Mind" is still on track for release in late fall of this year. The third installment of the "God Head Trilogy" will be released in the early spring of 2013. That title will be announced around the time "State of Union" is published.
Davison is an award-winning author living with his wife and son in the Los Angeles area. "Dreams, Faith & Ammunition" his is his third novel.
For more information visit http://stateofmindbook.com/author-DFAS.php