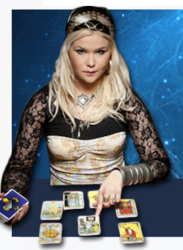 We have the opportunity to really change lives...
Santa Barbara, CA (PRWEB) June 25, 2012
A new website http://www.PsychicTarot.us, for online astrology has launched, and brings together people offering astrological and psychic services with people looking for readings via the internet. Astrology readers, for free, can now list their service offerings to the public and be notified as sales are made.
Psychic readings and tarot card sessions are often sought by those struggling to find answers, and the internet is beginning to take notice.
PsychicTarot.us has been launched as an online community for the metaphysical industry. Users who seek enlightenment while trying to understand difficult aspects of life are encouraged to seek providers who can help them, provide insight or just simply to have fun.
Key Facts:

Astrology Readers Need Not Be Professionals To Create Offers
Metaphysical Community Being Built To Help Providers Make Money
No Limits To Creativity
Earn Extra Money While Having Fun
Astrology readings are one important aspect of the site, and those individuals who can offer services of their making, large or small, to be made available to the public.
From personalized readings to astrological predictions, the founders are working to build a powerful community that can make money for the partners as well as entertain and help the public.
PsychicTarot.us is entirely free for users to join and is welcome to all experience levels.
PsychicTarot.us is currently seeking offer providers who specialize in astrology readings to meet coming demand. "People have a strong interest in comprehensive astrological analysis," said Katia Shayk, site representative.
"Getting in on the ground floor with our recent launch provides a great opportunity for people to make money and have fun from home," added Shayk.
Providers are encouraged to create interesting angles for their services in order to stand out, but the services should also be appealing to those in the general public who may be interested in spending five dollars to twenty dollars on a reading.
"Astrology readings are generating more interest than ever, its an exciting opportunity, we feel we have the opportunity to really change lives," added Ms. Shayk.
About PsychicTarot.us
PsychicTarot.us is the all new metaphysical online community that connects reading seekers with talented and engaging providers of psychic, tarot, astrology readings, numerology and other services.
Find out what your future has in store for you or unleash your creative potential selling your services at http://www.psychictarot.us/join