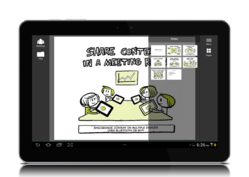 New York, NY (PRWEB) June 25, 2012
MightyMeeting, a NY-based technology start-up and a leading innovator in mobile real-time collaboration, today announced MightyMeeting HD for Android. The application offers out-of-the-box integration with Box OneCloud for seamless access to presentations stored online by millions of professionals at hundreds of thousands of companies worldwide.
"At MightyMeeting we work hard to develop the cutting edge technology that helps mobile professionals generate new business opportunities and revenue," said Dmitri Tcherevik, the founder and CEO of MightyMeeting Inc. "MightyMeeting HD for Android is our towering achievement that is both very powerful and extremely easy to use".
MightyMeeting HD can be downloaded, installed, and put to good use in seconds. There is no need to register or upload files online. Any presentation that is already available on the device or stored in the Box cloud repository can be opened and shared in meetings with any number of meeting participants. Common scenarios may include team meetings, sales presentations, online training sessions, and webinars.
An online meeting can be started on an Android tablet with a single tap on a button and used to share presentations in Microsoft PowerPoint or PDF format. Meeting participants can join online via any device with a web browser. Alternatively, they can join via an Android tablet using the MightyMeeting HD application.
The application can also be used to save selected presentations on the tablet for viewing offline. This can be particularly useful in ad-hoc face-to-face meetings that may occur anytime, often at a location without a reliable network connection.
MightyMeeting HD is available immediately at Android Play and can be installed on a range of large format Android tablets such as Samsung Galaxy Tab, ASUS Transformer Pad, and others. MightyMeeting is encouraging feedback from its users and making this release available at no cost. For more information please visit http://www.mightymeeting.com.