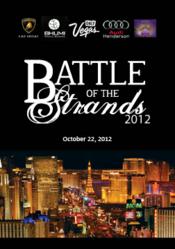 We are thrilled that LookTV will bring Battle of the Strands 2012: Xtreme Beauty to a wide digital audience. It is the perfect way to showcase such an epic fashion, beauty, and styling event
Las Vegas, Nevada (PRWEB) June 25, 2012
Vegas Beauty Unbound, the premier, Las Vegas-based education and networking event for the international beauty industry, is pleased to announce that it has partnered with LookTV to provide digital coverage of the most extreme salon competition in history, Battle of the Strands 2012: Xtreme Beauty.
The ultimate fashion accessory, LookTV is the free subscription-based digital fashion & beauty channel from the creators of Project Runway. With more than 10,000 subscribers, LookTV makes fashion accessible with a wide range of celebrity and industry insiders, beauty how-to's, DIY styling, fashion tips, and much more.
As a partner to Battle of the Strands, LookTV will broadcast exclusive content of the salon submission videos, selection process, top contenders, behind-the-scenes story lines, preliminary challenges, all from the world's most unique and innovative salon competition, hosted by master colorist, stylist, and industry expert, Kim Vo.
The competition will culminate with the epic finale, Xtreme Beauty, where five salons battle head-to-head at the Joint, Hard Rock Hotel & Casino to create a hair, makeup, and wardrobe masterpiece as a living, breathing artistic participant in a chosen production number to highlight their work. Celebrity judges and icons, including LookTV, will offer critiques and opinions, XFactor Style as teams demonstrate creative genius, teamwork, and powerful production numbers to crown a winner. "We are thrilled that LookTV will bring Battle of the Strands 2012: Xtreme Beauty to a wide digital audience. It is the perfect way to showcase such an epic fashion, beauty, and styling event," states Erin Utter, Director of Vegas Beauty Unbound.
About Vegas Beauty Unbound
From October 20-22, 2012, Vegas Beauty Unbound will descend on Las Vegas to explore the transforming Beauty Industry. Beauty professionals and industry icons will benefit from strategic education and networking sessions, experience new tools to help their business grow, and witness and participate in explosive battles that challenge them in new ways.
In addition to the finale of Battle of the Strands 2012: Xtreme Beauty, Vegas Beauty Unbound's other marquee events include the Mane, Style, and Face Forum, a social media strategy seminar with an expert Google pioneer, a spectacular runway show hosted by Kim Vo, a Trade Show Exhibit featuring the latest in green, trends & technological breakthrough products, Student Competition, and Beauti Gras, a Mardi Gras style Halloween Party at Body English.
Sponsors include VisitLasVegas.com / Las Vegas Convention and Visitor Authority (LVCVA), Lamborghini of Las Vegas, Audi Henderson, Bhumi Makeup Brushes, and Izunami Hair Tools of New York, with others to be announced.
For More Information
For more information about the event or to request media credentials, please contact Erin Utter, Director of Operations, Battle of the Strands, at 702/990-3368 or 702/612-0394, email erin(at)emailbestbeauty(dot)com or visit vegasbeautyunbound.com