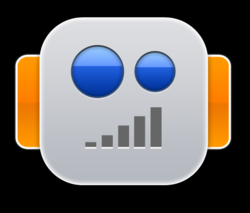 New York, NY (PRWEB) June 25, 2012
Digi's friends have all been complaining about his lack of party skills, which is why appsbar.com selected "PARTYACCESS" as the appsbar App of the Day.
Partyaccess is an internet entity that was launched in March 2005. The company was established to provide entertainment to young people between the ages of 18-40 years old (Digi's demographic), be a conduit for news and other information and to be a resource for local and international parties and events.
As such, Partyaccess is host to Blazin FM 99.3. This interactive radio station showcases its DJs and other personalities through DBS TV each weekday morning and via a web camera, which is streamed on the Partyaccess website internationally. Using an app as a medium is ideal for reaching a widespread audience, with visitors to the site from all over the world including, Canada, the United States, the United Kingdom, various counties in Europe and neighboring Caribbean countries.
Digi can't to use the "PARTYACCESS" app next weekend and find out about the hottest parties out there for next weekend!
Where the app can be downloaded for free:
[Google Play
Why Digi likes it:
Made with appsbar, this app was free to make using appsbar's iPhone app builder, Windows app builder or Android app builder, and even better, it's free to download.
How anyone can make an app:
Simply join the community with an email address and get started on an app. Digi, our loveable robot app coach, is there to help at each step.
About appsbar:
http://www.appsbar.com was launched in 2011 to fill the gap between over-simplified apps and costly, professionally-produced apps. appsbar.com apps each average 500 to 1,000 downloads within the first day of being published. In 2012, appsbar became the leading developer of Android apps with more than 10,000 published. appsbar was developed by Appsbar Inc., a company founded by Scott Hirsch. appsbar has grown to a community of everyday app developers and opened the way for businesses and people to engage with friends and brands online through the development of customizable digital tools. For company contact information and partnership opportunities, visit http://www.appsbar.com
For More information:
Caitlin Cox
PR(at)appsbar(dot)com