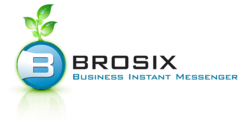 We strive to provide improved features and functionality after hearing back from all Brosix users
(PRWEB) June 27, 2012
With the release of the newest version 3.3 on June 25, 2012 Brosix continues its commitment to providing customers and clients with one of the most well-supported enterprise instant messengers by offering regular updates as needed.
Some of the major improvements included in version 3.3 of Brosix Instant Messenger are multi-monitor support for screen-sharing and screenshot features with new editing functionalities.
"Many of our clients in the IT business are using 2 or more screens. Now thanks to the new screenshot conference feature they can edit the screenshots from all the monitors before they send them to many colleagues at once". Stefan Chekanov, CEO of Brosix, said. "We strive to provide improved features and functionality after hearing back from all Brosix users and we know they will like the improvements in Brosix Instant Messenger version 3.3."
Version 3.3 also includes an improved notification, auto-away status when full screen application is active (Windows only) or when the computer is locked, Audio / Video call improvements for users with slower connections to internet or limited bandwidth.
Other major improvement is the new communication server with new protocol which will guarantee more stable connection to all instant messaging users.
Brosix development team did also some minor tweaks on the other features like whiteboard, custom logo, co-browse, file transfer themes etc. in order to improve the overall instant messaging experience.
To find more information about the new version 3.3 of Brosix Instant Messenger please visit http://www.brosix.com/2012/06/brosix-releases-version-3-3/
About Brosix
Brosix is an all-in-one enterprise instant messenger and Skype alternative that allows managers to enhance employee productivity while improving communication. It can be run on Mac, Linux, Windows, Android, iOS and Web and supports English, French, German, Italian and many more languages.
Brosix is the first Eco-friendly business instant messenger! Brosix is using the EcoServer Fujitsu which consumes 55% less energy than standard servers, for all its instant messaging and other virtual needs.
Profit now from Eco-friendly outstanding hardware and business instant messenger with the best value for money, and help to protect our environment!
Brosix Enterprise Instant Messenger – http://www.brosix.com