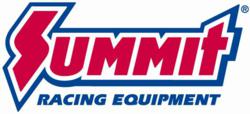 Tallmadge, OH (PRWEB) June 25, 2012
Summit Racing Equipment, the world's largest direct mail and Internet supplier of high performance automotive parts, now offers a complete line of detailing products to complete the perfect paint job.
Quick Cut HD Rubbing Compound
Ideal for base coat/clear coat finishes. Features a nano-technology abrasive that quickly cuts through sanding scratches.
Quick Cut Polishing Compound
The special formula quickly erases wet/dry sanding scratches, then breaks down into polishing mode to create a smooth, bright finish.
Power Buffing Glaze
Ideal for dark colored vehicles, it removes compounding swirls while leaving a smooth, deep finish. It can be applied with a finishing foam pad or a finishing lambs wool pad.
All In One Rubbing Compound & Polish
When used with a wool cutting pad, it can remove sanding scratches after color sanding. It can then provide a swirl-free, high gloss finish when used with a finishing foam pad.
Hand Glaze
Gentle, silicone-free formula spreads easily and dries quickly. It removes with a quick wipe using a soft micro-fiber cloth.
Body Clay
Designed for use with Quick Shine Detailer, Summit Racing Body Clay eliminates overspray from paint, chrome, glass, and plastic.
Quick Shine Instant Detailer
Removes dust, finger prints, and smudges from glass, chrome, and paint. Can be used with Summit Racing Body Clay to remove paint overspray, sap, tar, and other environmental contaminants.
Customers can get pricing and technical information at SummitRacing.com