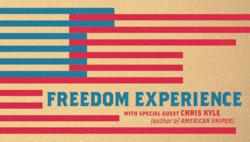 The freedoms we experience in our country are amazing! So many have sacrificed and given everything to secure those freedoms
Grapevine, Texas (PRWEB) June 26, 2012
Ed Young and Fellowship Church are lighting up the Grapevine, TX sky this 4th of July weekend. The church is known for going all out on holidays, and Independence Day is no exception. As an added bonus to the fireworks show and outdoor family event, Ed Young will be interviewing Chris Kyle, decorated military hero and author of the new book American Sniper.
Pastor Young says, "The freedoms we experience in our country are amazing! So many have sacrificed and given everything to secure those freedoms. As a nation, we have been blessed beyond belief. This weekend, we're going to celebrate that reality with the entire community!"
In addition to the fireworks show at Fellowship Church's lake, local vendors and food trucks will be available for guests to grab a bite to eat before the show begins. Some of the food options include: hamburgers, hot dogs, pizza, Dickey's BBQ, and Carnival Catering, a company that specializes in carnival food such as fried Oreos.
Food is not the only enticing part of this night. Fellowship Church will have several child-friendly activities, including bounce houses on site as part of this kid-friendly celebration. There will also be the ever-popular glow-in-the-dark merchandise available for the kids to light up the night after the sun goes down.
Another part of this special celebration is an interview with military hero and author, Chris Kyle. Kyle is a former United States Navy Seal and the deadliest sniper in United States military history. Most recently, Kyle has written The New York Times best-selling book, American Sniper, which is an autobiographical account of his time in the military. He will be joining Pastor Ed Young during each worship experience throughout the weekend.
The event will begin at 6:00pm on Saturday, June 30, with the fireworks show starting at 9:00pm. Admission to this event is free.
ABOUT:
Fellowship Church
Ed Young is the founding pastor of Fellowship Church, one of the most attended churches in North America. He is an author and speaker noted for communicating biblical truth in creative and memorable ways. He has a passion for making the complex, simple as he speaks truth to people in ways they can understand and apply to their everyday lives. He has written 14 other books, including The New York Times best-seller Sexperiment.
PRESS CONTACTS:
Contact: Andy Boyd
Company: Fellowship Church
Phone: 972-471-6601
Email: andy.boyd(at)fellowshipchurch(dot)com
Contact: Casey McCann
Company: Fellowship Church
Phone: 972-471-6609
Email: casey.mccann(at)fellowshipchurch(dot)com