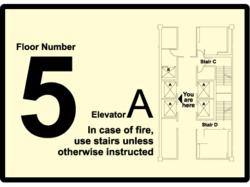 "These signs are an inexpensive way to help improve safety at a business. They operate in the dark without electricity, which means you don't have to run new wires to them either and can mount them anywhere," says Sohail Hassan of One Stop Green.
Houston, Texas (PRWEB) June 25, 2012
One Stop Green now carries corporate and industrial photoluminescent sign options for every application including safety labels, parking, no smoking signs, bio hazard signs, and building maps just to name a few. These signs display information or directions and the special photoluminescent paint means they do not need electricity to stay lit during events of power failure or complete darkness. Under new requirements, Photoluminescent strips will be placed on steps, handrails, and the perimeter of enclosed stairwells in new high-rise buildings in municipalities across the country that use the International Building Code. When emergency lighting fails, the strips will help building occupants navigate their way out of the building in a quick and safe manner. These signs meet all government standards for lighting levels in the dark and during emergencies.
Photoluminescent signs charge up with regular overhead lights during the day so that they can shine brightly in the dark at night without using any extra electricity. They exceed emission requirements for many different standards including OSHA, UL, and ISO standards for lighting brightness and toughness to handle the traffic of everyday operations at a business. Photoluminescent signs are the smart solution for your business's directional, evacuation, and safety signage needs. City codes require signage to work when the time comes and our patented photoluminscent signs deliver reliable and continuous service for up to 12 hours even in the event of total power outage. Our customers depend on the life saving advantages that our signs deliver and rely on the quality and dependability of our product. Instead of relying on power sources that can fail in a time of need, our photoluminscent signage uses the strength of ultraviolet light to serve as a beacon in life's darkest hours. These signs are thermo reactive (heat increases luminance, functions in the event of complete power failure, requires no bulbs, or power source, is unmatched by the placement and versatility, provides a continuous stream of information, and is non obstructive and noticeable under normal conditions.
One Stop Green, LLC facilitates environmentally friendly improvements to residential and commercial properties through distribution of green, energy efficient products and services. They offer every product needed for sustainable energy independence enabling homeowners, businesses and commercial property owners to master their usage by reducing waste and implementing efficient energy consumption methods. Their goal is to provide user friendly and practical long-term solutions to existing inefficiencies and their carefully selected products and professional installers offer a higher level of satisfaction and service for their customers.
Contact:
Nathan Kaufman
http://www.OneStopGreen.com
P: 877.449.9110|O: 713.541.2739|C: 210.846.5900
###