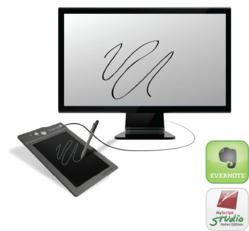 With the integration of Evernote and the virtual whiteboard mode and the addition of MyScript OCR compatibility, VDC 2.0 truly takes the Boogie Board Rip eWriter user experience to another level.
(PRWEB) June 25, 2012
Improv Electronics announced today that the Boogie Board Rip Virtual Desktop Companion 2.0 (VDC) upgrade will be released in August 2012. The Virtual Desktop Companion is free downloadable PC software that adds functionality to the Boogie Board Rip LCD eWriter.
The software upgrade was unveiled today at ISTE 2012, the International Society for Technology in Education conference and exhibition in San Diego, California.
The upgrade includes several new features to enhance Boogie Board Rip eWriter use in education and office environments. These include integration with Evernote file management and note-taking software and a virtual whiteboard mode that allows the image on a Boogie Board Rip eWriter to be viewed in real-time on a PC in full screen as it's created.
"We are working diligently to ensure the Boogie Board Rip eWriter continues to be the best electronic note-taking device on the market," said Improv Electronics CEO Dr. Albert Green. "With the integration of Evernote and the virtual whiteboard mode and the addition of MyScript OCR compatibility, VDC 2.0 truly takes the Boogie Board Rip eWriter user experience to another level. It transcends being a paperless notebook and now becomes a serious productivity tool for classrooms, conference rooms and creative studios."
The Evernote software integration will allow VDC software users to instantly store, save and manage files created on the Boogie Board Rip eWriter within the Evernote cloud, add tags to files and folders for easy sorting and searching, and access their saved Boogie Board Rip content from any device synced with Evernote (e.g., smartphone) for quick viewing.
The virtual whiteboard mode displays the Boogie Board eWriter's writing surface in real-time onto a PC monitor or projector, making it a very effective group communication or presentation tool. The written or drawn image is black on a white background. Images viewed in virtual whiteboard mode can be saved directly to the host PC or e-mailed with the click of a button.
"The virtual whiteboard will be especially effective for classroom instruction, business presentations, online sharing via WebEx® or similar web conferencing software, collaborating with colleagues and brainstorming sessions," said Dr. Green. "Now the Boogie Board Rip eWriter will not only be the paperless alternative to notebooks, but the markerless alternative to whiteboards."
Early this fall, all Boogie Board Rip eWriters will ship with a 30-day free trial of MyScript handwriting recognition software, which has the best handwriting recognition accuracy rates available in the market. MyScript will convert handwritten notes saved on the Boogie Board Rip eWriter to typewritten text that can be edited and searched in Microsoft Word and other popular word processing, desktop publishing and text editing software.
About Boogie Board eWriters
Improv Electronics introduced Boogie Board eWriters in January 2010 with the Boogie Board 8.5 eWriter as a paperless replacement for memo pads, sticky notes, scratch pads and other writing and drawing mediums. High global demand immediately followed. Eight colors were added in January 2011. In June 2011, several additional Boogie Board models and accessories were launched including the Boogie Board 10.5 eWriter, Boogie Board 8.5 eWriter for Binders, and the Boogie Board Message Center. At the same time, a custom design of the original Boogie Board 8.5 eWriter available exclusively through Brookstone was introduced.
The Boogie Board Rip eWriter's ability to record and save notes/images makes it the ideal paperless replacement for paper notebooks, legal pads, and sketch books. It includes the following features:

Internal memory for 200 typical images
High resolution, vector PDF format (nearly infinite scalability; editable in Adobe® Illustrator®/Photoshop® and most other popular illustration and image editing programs)
9.5" writing surface (measured diagonally)
Micro USB port
Thin, durable and lightweight construction
Integrated stylus holder (stylus included)
Erase lock button
Rechargeable batteries with one week between charges under typical use
About Improv Electronics
Improv Electronics was formed in 2010 as the consumer products subsidiary of Kent Displays. Founded in 1993, Kent Displays, Inc. is a world leader in the research, development and manufacture of Reflex No Power LCDs for unique, sustainable applications including electronic skins, eWriters, smartcards and eReaders.

Go to Improv Electronics for more information about Boogie Board eWriters
Download the Improv Electronics Media Kit
Request review samples from Kevin Oswald, Communications Director, at 330-673-8784 x161 or koswald(at)kentdisplays(dot)com.
Boogie Board, Boogie Board Rip, Reflex and Improv are trademarks of Kent Displays, Inc.
Adobe, Illustrator and Photoshop are trademarks of Adobe Systems Incorporated
Evernote is a trademark of Evernote Corporation
MyScript is a trademark of Vision Objects
WebEx is a trademark of Cisco Systems, Inc.
Word is a trademark of Microsoft Corporation