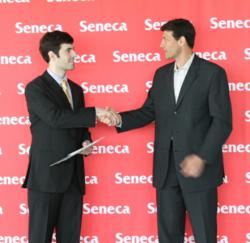 Satisfied clients is not adequate, it is only when you achieve an engaged level of service do you begin to succeed.
Toronto, ON (PRWEB) June 26, 2012
Seneca College recently held their award ceremony to thank sponsors and honour the recipients of the Financial Services Practitioner awards and scholarships. During the event ceremony, Carmine Tullio, President & CEO, Univeris, had the opportunity to present an award and bursary to deserving student, Flavio Filho for his academic excellence and strong commitment to financial technology.
Carmine thanked industry partners Desjardins and Mclean Budden for participating in the program alongside Univeris, and Sam Albanese, industry director for the Center for Financial Services at Seneca College, for having the foresight and determination to create the Financial Services Practitioner Program in the first place.
"These are companies that practice what they preach for education, life-long learning as a strategic advantage that benefits everyone." Says Carmine Tullio, CEO, Univeris. "Satisfied clients is not adequate, it is only when you achieve an engaged level of service do you begin to succeed."
We congratulate once again Flavio Filho on his achievements and thank Desjardins & McLean Budden for their dedication for leading the industry with their support.
About Univeris
Univeris is a leading provider of enterprise retail wealth management software. Designed for large-scale operations, Univeris offers a comprehensive solution suite that automates retail sales compliance, front office practice, tiered operation management and many other key aspects required for delivering superior investor services. Powered by the most sophisticated distribution platform, solutions result in Total Financial Management of billions of dollars in assets and millions of investors. For more information, please visit http://www.univeris.com
About Seneca College and the Centre for Financial Services
With 10 campuses across the Greater Toronto Area, Seneca offers degrees, diplomas and graduate certificates renowned for their quality and respected by employers. Combining the highest academic standards with practical, hands-on learning, expert teaching faculty and the latest technology ensures Seneca graduates are career-ready.
Established in September 2002, Seneca's Centre for Financial Services strives to be a leading source for the delivery of practical, professional development, applied research and educational solutions in financial services. Programs are developed not only to be delivered in a formal classroom setting but also as professional development modules, making the curriculum more appealing and applicable both to part-time students, as well as, corporations with visions of expanding their human capital.
To learn more, please contact:
Alan Trieu
Product Marketing
marketing(at)univeris(dot)com
416-979-3700