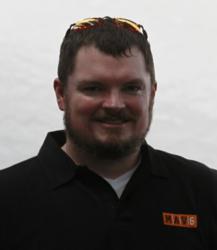 I want to thank Ernst and Young for recognizing Mav6 and me for doing what we love - making the world safer through technology.
Houston, TX (PRWEB) June 26, 2012
Ernst & Young LLP last week announced that Jay Harrison, Managing Director of Vicksburg, MS-based Mav6, LLC, an aerospace and defense technology company, received the Ernst & Young Entrepreneur Of The Year® 2012 Award in the Technology category in the Gulf Coast Region. The award recognizes outstanding entrepreneurs who demonstrate excellence and extraordinary success in such areas as innovation, financial performance, and personal commitment to their businesses and communities. Harrison was selected by an independent panel of judges, and the award was presented at a special gala on June 21 at the Houston Hilton Americas.
"I am humbled and honored to accept this award on behalf of the men and women of Mav6" said Harrison. "As a company, we are committed to carrying forward the tradition of national military service that Mississippians have long upheld. Our goal is nothing less than to change how the defense industry equips our soldiers, sailors, airmen, and marines for the challenges of a changing world by creating a new generation of cost effective, sustainable, and high performance defense technologies. I want to thank Ernst and Young for recognizing Mav6 and me for doing what we love - making the world safer through technology."
Mav6 was founded in 2007 by Harrison and Major General Buford "Buff" Blount, USA (Retired) to leverage commercial technology innovation in the development of better, cheaper, and faster solutions to the "wicked" problems in defense and national security. Mav6's mission is to harness the power of design and open innovation to rapidly deliver defense technology solutions where and when they are needed most; to set a new standard in the defense industry through cost effective and transparent ways of working; and to champion the principles of design thinking to mitigate the full spectrum of global security challenges. In 2011, Inc. Magazine named Mav6 as the second fastest growing privately owned company in Mississippi. Mav6 was also recognized in Popular Science magazine's 24th annual "Best of What's New" in the Aviation and Space category for development of the Department of Defense's Blue Devil Block 2 unmanned surveillance system.
Now in its 26th year, the Ernst & Young Entrepreneur Of The Year Program has honored the inspirational leadership of such entrepreneurs as Jeff Bezos of Amazon.com, Michael Dell of Dell Inc., Herb Kelleher of Southwest Airlines, Fred Smith of FedEx, Larry Page and Sergey Brin of Google, Richard Schulze of Best Buy, Andrew Mason of Groupon, Mindy Grossman of HSN, Inc., Reid Hoffman and Jeff Weiner of LinkedIn, and many more.
As a Gulf Coast award winner, Harrison is now eligible for consideration for the National Entrepreneur Of The Year 2012 Award. Award winners in several national categories, as well as the National Entrepreneur Of The Year Overall Award winner, will be announced at the annual awards gala in Palm Springs, California, on November 17, 2012. The awards are the culminating event of the Ernst & Young Strategic Growth Forum®, the nation's most prestigious gathering of high-growth, market-leading companies.
For additional information about Mav6, please contact Patrick Sadler at psadler(at)mav6(dot)com or visit http://www.mav6.com.