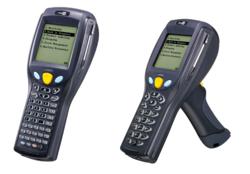 Nut Software implements a predictable price structure for you, so you can enjoy the advantages of advanced Business Automation Software and Inventory Control Software at an affordable, fixed monthly rate.
Plano, TX (PRWEB) June 25, 2012
CipherLab, a leading innovator in Automated Identification and Data Capture (AIDC) for the retail, warehouse, and distribution industries announces today that its newest rugged mobile computers, the 8700, is certified for implementation with Nut Software's suite of software applications.
Nut Software, Inc. is a leading provider of inventory tracking, barcode and data collection software designed to make asset tracking, inventory control, and processes more efficient for the tree nut industry.
Through a unique partnership with Nut Software, CipherLab's 8500 series and new 8700 series long-range rugged mobile computers, allow customers in the nut industry to seamlessly interact with Nut Software's flagship product, NutManager. NutManager automates the inventory, sales, and field management functions for many leading California nut processors, hullers and traders; allowing these companies to track products from the moment they are received to their final destination. By utilizing the 8500 and 8700 mobile computers, these companies can track important information at pivotal parts of the production process, including the packaging and shipping phases. When used with wireless networks, workers are able to capture live information and react quickly to any changes that occur. CipherLab's 8500 and 8700 series are the only mobile computers that work in conjunction with NutManager with an intuitive custom application designed with the worker in mind to easily and effectively capture all pertinent information in the warehouse and field.
CipherLab, a leading innovator in Automated Identification and Data Capture (AIDC) for manufacturing, retail, transportation and logistics industries, has introduced the new 8700 series industrial mobile computers. With a tough exterior, the 8700 series is able to sustain in harsh environments yet deliver optimal performance. Its intuitive Graphic User Interface (GUI) is user-friendly which makes daily operations more efficient. Equipped with a wide range of wireless connections, the 8700 series improves communications and workflow in various applications.
The 8700 series features a large touch screen with multiple data input alternatives including laser, linear imager, 2D imager, and RFID. On top of that, the long range laser option enables data collection from a distance in a warehousing or manufacturing setting. GPS is also incorporated into the device, allowing you to instantly locate and track staff for a more efficient operation. In addition to the durable design and lower power consumption, the 8700 series is equipped with software tools to help you effectively manage the process through easier customization and faster data transmission via FTP.
For more details and specifications regarding CipherLab 8700 series industrial mobile computers or other CipherLab products, please send an email to NASales(at)cipherlab(dot)com or contact our office at 888-300-9779 by phone.
About CipherLab
CipherLab is a global leader in the design, manufacture, and marketing of Automatic Identification and Data Capture/Collection products and systems. The company's mobile computers and scanners are integrated into the networks of some of the world's best known logistics, retail, distribution, government installations and healthcare companies, helping them run more efficiently and effectively onsite and on the road. Operating worldwide, CipherLab is headquartered in Taipei, Taiwan with offices in China, Germany and the USA, and is publicly traded on the Taiwan stock exchange (Taiwan OTC: 6160). For more information, please visit http://www.cipherlab.com.