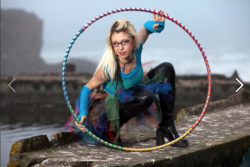 She uses her art to spread a message of beauty, self expression, and visionary thinking
Oakland, CA (PRWEB) June 26, 2012
Cressie Mae is using the emerging trend of hula-hooping to cross new boundaries of social change.
Inspired by her own personal transformation, Cressie has spent the last two years in the San Francisco Bay Area creating collapsible dance hoops and sharing her love for hoop dance. As a coach and workshop leader, she has influenced countless people to be healthier, happier, and more creative using innovative and collaborative techniques. As a performance artist, she uses her art to spread a message of beauty, self expression, and visionary thinking.
Cressie Mae is now taking the hula hoop to Olympic East London to join a worldwide effort for social, environmental, and economic change, The Global Summit. She will lead workshops for attendees and perform at the London Pleasure Gardens, Europe's new premier festival destination.
The Global Summit is a worldwide effort to achieve a sustainable future by uniting those on the front- lines of social and environmental change with influential business leaders and policy makers through a transformative, idea bridging, and solution building event.
The Global Summit will take place August 15-17, 2012 at the London Pleasure Gardens, in the Last Mile Route of Olympic East London.
You can follow Cressie Mae's path to The Global Summit this summer by following her fundraising campaign on Rock The Post.
About Rock The Post
Rock The Post is a crowdfunding site oriented to fund small businesses, entrepreneurs, and nonprofits. Rock the Post provides budding businesses with the means necessary to amass resources and flourish.