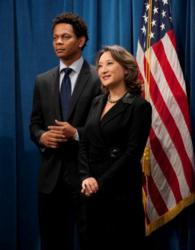 Training coaches to recognize the signs and symptoms of concussion will help protect the health of student athletes --Assemblymember Mary Hayashi
Sacramento, CA (PRWEB) June 28, 2012
Assemblymember Mary Hayashi (D-Hayward) announced that her bill, AB 1451, passed the California State Senate today. AB 1451 will add training on concussions to the first aid certification required of all California high school coaches. The bill, which passed unanimously with bipartisan support, goes back to the Assembly for a final vote.
"The culture of playing through the pain and staying in the game is changing, but kids still believe they need to be tough and play through injuries, so they're unlikely to tell anyone when they think they have a concussion," stated Assemblymember Hayashi. "Training coaches to recognize the signs and symptoms of concussion will help ensure athletes are removed promptly thereby reducing the risk for further injury."
Assemblymember Hayashi's groundbreaking concussion bill, AB 25, was signed by the Governor in 2011 and went into effect this year. The law now requires a school district to immediately remove an athlete from a school-sponsored athletic activity if he or she is suspected of sustaining a concussion or head injury. Students are prohibited from returning to play until he or she is evaluated by, and receives written clearance from, a licensed health care provider.
AB 25 was modeled after the Zackery Lystedt Law in Washington state, which is considered to be the nation's toughest return-to-play law.
AB 1451 strengthens this existing law by adding concussion education to the required first aid training of every high school sports coach. Coaches will learn the basic signs and symptoms of concussions and the appropriate response.
Injuries can happen with any sport. These bills address concerns about players returning to the game too soon after a concussion, which places them at greater risk for life-threatening complications. A 2009 study showed that 41 percent of high school athletes who suffered a concussion return to play too soon.
Without proper diagnosis and injury management, concussions can lead to a wide-range of short and long-term issues, including sleep disorders, memory loss, and depression.
Assemblymember Hayashi is the Chair of the Business, Professions, and Consumer Protection Committee and serves the 18th Assembly District, which includes San Leandro, Hayward, Dublin, most of Castro Valley and Pleasanton, and a portion of Oakland, as well as the unincorporated areas of Ashland, Cherryland, San Lorenzo and Sunol.
# # #