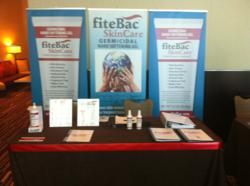 We believe our skin-friendly hand softening gel will help those practicing healthcare to achieve a higher level commitment to excellence in hand hygiene
Marietta, GA (PRWEB) June 27, 2012
OSAP is an annual conference that focuses on issues that impact infection prevention in the delivery of oral healthcare. Both industry experts and companies presented information on the cutting edge developments in science and technology in infection control. fiteBac SkinCare Germicidal Hand Softening Gel was presented to address critical issues faced in the arena of hand sanitizing.
fiteBac was extremely well received at the OSAP symposium. Attendees and educators were presented the skin-friendly, alcohol-free, water-free hand sanitizer at the conference. At the booth, the sanitizer was placed on the hands of attendees, so they could experience the "wow" feeling of the product. One-ounce samples were given at the convention for attendees to take home. "It is the intent of fiteBac to help make a difference in infection prevention in the delivery of dental care. It was our pleasure to attend the seminar, and we look forward to returning in 2012," commented Kirk Kimmerling, DDS and CEO of fiteBac SkinCare, LLC.
fiteBac SkinCare, LLC attended the symposium to share with dental educators the many benefits of fiteBac's technology. "It was an excellent opportunity to attend a conference with like-minded people interested in infection prevention. Collaboration of efforts is very powerful when tackling issues on safety, asepsis and prevention in the delivery of oral care," Dr. Kimmerling noted. "Sharing information on science and products helps create the best possible outcomes and we are happy to participate in the solution. We believe our skin-friendly hand softening gel will help those practicing healthcare to achieve a higher level commitment to excellence in hand hygiene."
OSAP was founded in 1984 helping like-minded people forge forward issues of infection prevention and policy development in dentistry. The overall goal of the group is to allow people to obtain safe dental care without transmitting infection. Over 20 speakers addressed the convention dispersing information and sharing developments in the field. fiteBac SkinCare LLC enjoyed a healthy reception with its futuristic hand sanitizing product.
About fiteBac™ SkinCare, LLC and KHG: fiteBac SkinCare, LLC is a subsidiary company of Kimmerling Holdings Group, LLC ("KHG"), a Georgia-based biotech company that has developed an antimicrobial platform intellectual property technology. KHG was founded in 2009 by a family dentist in Marietta, GA, Kirk Kimmerling, DDS and Dan Kearney. For More information on the dental practice of Dr. Kimmerling, click here. The two set out to create products to "change the world, one product at a time." Kirk and Dan first targeted bacterial issues in dentistry, knowing that solving those problems would lead to dramatic improvements in oral health, and more importantly, systemic bodily health. They engaged a team of highly accomplished chemists and scientists retired from Fortune 500 companies and researchers from major universities. In doing so, KHG has developed technology with several patents pending that has application well beyond dental materials, and has exciting potential in medical, plastic, composite, coating and other applications that are in various stages of development, some close to commercialization. fiteBac™ SkinCare Hand Softening Gel is the first product to be released under the fiteBac brand name.