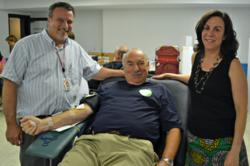 Westchester County, NY (PRWEB) June 26, 2012
A single pint of donated blood can help save the lives of up to three people. Stillman Property Management's first blood drive raised a total of 26 unit pints, a life-changing number for 78 Westchester County patients. Coordinated by Robin Winter, Property Manager at Stillman Property Management through the American Red Cross in Greater New York, the blood drive was held on Thursday, June 14 at Diplomat Towers a Stillman managed property located at Diplomat Drive in Mount Kisco.
According to the American Red Cross, a constant supply of fresh blood is always needed from people of all blood types. Unfortunately, Westchester County is currently not self-sufficient and local blood drives help serve the basic needs of local hospital patients.
"Every few seconds, somewhere in the US, someone requires a pint of blood – 40,000 pints are used each day," explained Thomas Kane, the American Red Cross of Greater New York. "There is no synthetic substitute for whole blood; it must come from a willing donor – yet only 5 percent of possible donors actually roll up their sleeves to give. We are grateful for Stillman's support and involvement in our ongoing efforts and for exceeding our goal by 30 percent."
Stillman's first blood drive was aimed at helping to satisfy the high demand for blood in Westchester County while also encouraging people to help others within their county. In recognition of their generous donations, all blood donors received certificates from the American Red Cross.
"Stillman and its employees have been actively involved in the communities they serve since the company's founding more than 25 years ago," said Roy Stillman, President of Stillman Property Management. "We are thrilled at the success of our first blood drive for the American Red Cross and we've already scheduled our next blood drive for mid-January and look forward to hosting more in the future." said Robin Winter, Property Manager at Diplomat Towers.
By supporting drives to collect and distribute blood, the American Red Cross in Greater New York serves as the bridge between generous blood donors and thousands of patients who need blood transfusions to survive an illness or accident.
Since its founding in 1881 by visionary leader Clara Barton, the American Red Cross has been the nation's premier emergency response organization. Some four million people give blood – the gift of life – through the Red Cross, making it the largest supplier of blood and blood products in the United States.
###
About Stillman Property Management:
Stillman Property Management (http://www.stillmanmanagement.com) is a full-service property management firm for over 100 condominiums, cooperatives and rental properties in the greater New York metropolitan area. Established in 1985, Stillman is a family-owned company with roots dating back to the early 1940's. Headquartered in Mamaroneck, N.Y., Stillman Property Management uses a unique team approach to develop specialized management programs for each individual property, implementing administrative, financial and maintenance procedures geared toward optimal operation. With a combined experience of more than 75 years, the firm's senior partners fully understand the onsite management process for complexes large and small.
About the American Red Cross Westchester Blood Service Region:
The American Red Cross shelters, feeds and counsels victims of disasters; provides nearly half of the nation's blood supply; teaches lifesaving skills; and supports military members and their families. The Red Cross is a charitable organization — not a government agency — and depends on volunteers and the generosity of the American public to perform its humanitarian mission. For more information, please visit http://www.redcrossblood.org or join our blog at http://www.redcrosschat.org.