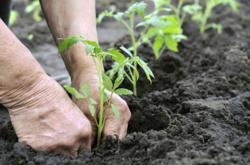 The first thing to do before any activity is warm-up and stretch to get the muscles ready. Some small arm circles or marching in place for a couple of minutes can warm up muscles and prevent soreness.
Chicago, IL (PRWEB) June 26, 2012
When it comes to summertime activities, most people don't consider gardening a sport, but those with green thumbs know that lifting, digging and mowing can be quite a workout and may lead to aches and pains if one is not careful. Whether it's hand pain from the trimming shears or back pain from weeding, it's just as important to prevent and take care of our bodies while performing these everyday tasks, as it is for an athlete playing sports.
Midwest-based Athletico Physical Therapy provides the following gardening safety tips to take the pain out of planting all summer long.
1. Warm up and stretch it out – The first thing to do before any activity is warm-up and stretch to get the muscles ready. Some small arm circles or marching in place for a couple of minutes can warm up muscles and prevent soreness. If someone is new to gardening, he or she should gradually build up time, starting out with 15 minutes, and slowly increasing the time when ready.
2. Watch the "handy" work – Whether at work with the latest technology from computers to cell phones or just getting dirty in the garden, our hands are busy every day and sometimes can be at risk for pain from overuse. Watch the handy work in the garden by trying to avoid constant forceful gripping and awkward wrist motions. Use hand exercises to help maintain the flexibility of the joints, muscles, tendons, and nerves. One exercise to try is to extend the elbow forward and use the opposite hand to bend the wrist back while keeping fingers straight for a gentle stretch. Hold for 5 seconds. Repeat 10 times. Tools with soft handles and gloves with padding to protect the hands can also be purchased.
3. Bend carefully and lift properly – Gardening can be a physically demanding activity, especially when moving or lifting heavy things like bags of mulch and soil or potted plants. Lifting improperly can lead to lower back strain or even sciatic pain. Minimize weight by splitting bags in half and using carts or wheelbarrows. When lifting is necessary, bend the knees and lift more with the legs to maintain the natural curve in the lower back, and avoid any lifting and twisting. When it comes to prepping a planting area, use a lightweight, long-handled garden tool that allows work to be done in a standing position. When using a shovel for digging, bend at the hips and knees, maintain a straight back, and keep elbows tucked in close to the body. Avoid excessive twisting, and do not reach away from the body to toss the load from the shovel. Plant while kneeling, to avoid squatting and placing pressure on the knees. A kneeling stool or foam pad can help cushion the knees. Move periodically to stay close to the plants – don't reach for them. If pain occurs during a certain activity, try alternating hands or alternating tasks.
4. Watch when mowing – If the lawn mower one uses doesn't have an electric start, bend at the knees to reach the cord and maintain the natural curve in the back. Tighten abdominal muscles right before pulling the cord to give extra support in the core. When pushing the mower, stand upright. For large lawns, take frequent breaks or consider doing over a couple of days.
5. Take a break – Listen to what the body is saying, especially in the hot sun so that dehydration doesn't occur. Take regular breaks, drink water, stretch and cool down. At the end of the day, apply ice to reduce any soreness that is experienced.
For any aches or pains when gardening, head to a local Athletico facility for a complimentary injury screening where a licensed physical or occupational therapist or certified athletic trainer can assess one's current symptoms and help decide appropriate next steps, which may include seeing a doctor, stretching or exercise. Visit http://www.athletico.com to find more information on how physical therapy can help alleviate pain and improve quality of life.
About Athletico Physical Therapy
Athletico Physical Therapy provides orthopedic rehabilitation services to communities and organizations throughout Illinois, Milwaukee, and Northwest Indiana. To demonstrate our commitment to both our patients and referring physicians, we measure functional patient outcomes and patient satisfaction with national data comparison using a third-party outcomes system.
Our services include physical and occupational/hand therapy, work rehabilitation, performing arts rehabilitation, women's health therapy, spine control classes, pediatric physical therapy, vestibular rehabilitation, and athletic training. Expanded services include performance enhancement, fitness center memberships, golf fitness, endurance, nutrition, and massage therapy.
Athletico accepts all indemnity, PPO, POS, and WC plans including BC/BS, Humana, Medicare, Aetna (PPO/HMO), PHCS, UHC (PPO.HMO) and many others. As a courtesy to our patients, we verify insurance coverage.
Athletico Toll-Free Injury Hotline 877-ATHLETICO (1-877-284-5384)
http://www.athletico.com