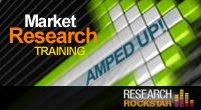 With our special summer pricing, we are hoping to make it even easier for professionals to invest in training
Marlborough, MA (PRWEB) June 27, 2012
Research Rockstar LLC, the market research industry's only independent professional training provider, has launched its Summer Sale. This sale reduces the standard pricing for online training programs, including both self-paced classes and real-time, instructor-led classes taught in Research Rockstar's virtual classroom.
More than 20 classes are on sale from June 27, 2012 until August 23, 2012, including Introduction to Project Management, 10 Point Checklist for Questionnaire Design, Ask It Right: Choosing Scales and Answer Options for Online Surveys, Social Media Meets Market Research, and more.
"Many market researchers find that workloads ease a bit during the summer season, so it's a great time to invest in learning new skills and best practices that will improve market research efficiency," says Research Rockstar President, Kathryn Korostoff. "With our special summer pricing, we are hoping to make it even easier for professionals to invest in training." Summer class pricing ranges from $77 to $617 per student, depending on topic and training duration.
Market research managers looking to refresh their own skills, or to train their staff members, can chose from over 20 classes during the Research Rockstar summer sale. All classes are discounted by at least 20%, and some by 40%. For example, Introduction to Quantitative Data Analysis is a 4-week Power Program that normally sells for $779; the summer session is priced at $617. And the single-session course on Market Segmentation has been reduced from $245 to $177 per student.
"Summertime training is a great way to unwind from the stress of normal project deadlines. Market researchers can recharge by catching up on best practices and new skills, and they even get to meet fellow researchers," says Korostoff.
To view class options and register, visit the Research Rockstar Training Store.
About Research Rockstar
Update your market research skill set and get the training you need without the hassle, cost, and travel involved with in-person seminars. Research Rockstar offers over 20 market research training classes, and guarantees student satisfaction. Please visit our new online training store at http://training.researchrockstar.com/