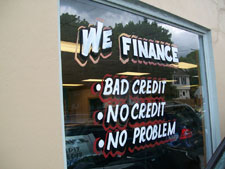 Bad Credit, No Credit..No Problem!
Ashland, MA (PRWEB) June 26, 2012
JC Auto Sales, an award-winning automotive dealer in Ashland, recently received the Quality Dealer of the Year Award from the Massachusetts Independent Automobile Association (MIADA). The MIADA Quality Dealer of the Year Award is given to the professional automotive dealer who exhibits the highest standard of excellence in customer service and auto sales. JC Auto Sales was the recipient of this distinguished award for 2012.
MIADA is a non-profit association of automotive industry professionals who promote ethical practices in the auto industry. Every year, thousands of automotive dealers across the state of Massachusetts compete for the opportunity to win Quality Dealer of the Year.
"We are honored to be named the Quality Dealer of the Year for 2012," said Juan Mendez, owner of JC Auto Sales. "Our team's commitment to individualized customer service has always been a top priority."
JC Auto Sales offers customers a large selection of high quality pre-owned vehicles. The lot stocks up to 100 cars available immediately, and maintains an outside network of used car suppliers to fulfill specific customer requests. Before visiting the lot in Ashland, customers can browse JC Auto's inventory online. JC Auto Sales' website displays photos of multiple interior and exterior angles on each available vehicle. On the website, customers can also fill out a financing application and a form to sell a vehicle.
JC Auto Sales specializes in financing for customers who have credit issues. The staff of JC Auto Sales helps Metrowest area drivers with bad or no credit to find affordable financing options. By relying on customers' current employment status, JC Auto Sales can find financing options within individual budgets, regardless of credit scores. For more information about JC Auto Sales or to view their quality inventory of available pre-owned vehicles, visit their website.
About the company:
JC Auto Sales, the winner of the MIADA Award for Excellence in Customer Service and Auto Sales, offers quality used cars to the Metrowest area. They carry up to 100 cars in their immediate inventory and can get any car using their network of quality used car suppliers. The Company offers financing whether the customer has no credit or bad credit, it is not a problem. JC Auto Sales will find financing that fits your budget.
JC Auto Sales offers late model used car from quality manufacturers like Ford, GMC, Chrysler, BMW, Audi, Lexus, Mercedes, Honda, Toyota, Volkswagon and others. For more information visit their website at http://www.JCautosales.info.