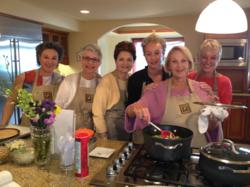 "Your food presentation and cooking class were amazing! I can't say enough good things about Jodi and her food"
Hildi Beyor
San Diego, CA (PRWEB) June 27, 2012
Lajollacooks4u, a gourmet cooking class and dining experience, based in La Jolla, CA, was the recent destination for La Jollans to celebrate a friend's birthday.
La Jolla, a suburb if San Diego, has long been a top destination for tourists with its idyllic Mediterranean climate, quaint shops and its beaches. Now the location getaway is also becoming a popular culinary getaway, thanks, in part, to Lajollacooks4u - the number one ranked tour destination on Trip Advisor.
Five close friends of Hildi Beyor gathered at Lajollacooks4u to celebrate her birthday. Beyor has a passion for cooking and her dear friend, Liz Rosen, wanted a special celebration for Beyor. Rather than go to another restaurant to celebrate, Beyor and her friends downed aprons and cooked together with Chef Jodi, owner and founder of Lajollacooks4u. Beyor could not stop smiling as she and her friends enjoyed the morning, sampling the recipes and being toasted along the way.
LaJollacooks4u specializes in Californian Cuisine and Jodi always uses the freshest ingredients in season. The menu consisted of Grilled Eggplant in a Roasted Tomato Sauce, Mixed Greens with Fresh Berries, Roasted Purple Onion and Fennel, Cedar Planked Halibut in a Basil Lime Sauce over a bed of Couscous Pilaf.
Beyor's friend, Nancy Vann, brought a bag of fresh plums from her tree and the ladies concluded their meal with a fabulous Plum Tart with Crème De Cassis and a Marzipan Crumble.
One of Beyor's other friends, Mal Smiedt, said that the entire activity was something to remember. "This was one of the most enjoyable mornings I've had coupled with the fact that I love cooking and baking, this was right up my alley," Smiedt said. Smiedt added that Jodi is confident, calm and relaxed in her kitchen and the food was excellent.
This was Roz Papplebaum's second visit to Lajollacoooks4u."I loved the cooking; the food was terrific and now I want to bring my grandchildren to Lajollacooks4u to experience it for themselves," Rapplebaum said.
With too go bags of food, the birthday girl left with a smile on her face. "I can't say enough good things about Jodi and her food; this birthday will always hold special memories for me," Beyor said.
Lajollacooks4u, founded in 2008, provides an ideal activity for corporate team building, special occasions and any foodie looking for a cooking and culinary experience in an ideal setting overlooking the Pacific Ocean. Based in La Jolla, a suburb of San Diego, CA, Lajollacooks4u has enjoyed record growth since its inception and has been ranked the number one attraction in La Jolla on the world's largest travel review site, Trip Advisor. For more information, contact Jodi Abel at jodi(at)lajollacooks4u(dot)com or phone 1-858-752-4980.