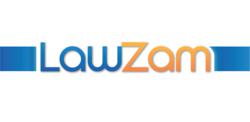 LawZam is like speed dating for the legal world.
Los Angeles, CA (PRWEB) June 27, 2012
Startup online legal service LawZam announces the launch of its web application connecting consumers with attorneys by video conference. LawZam provides a platform for people to find lawyers quickly and receive "face-to-face" online legal consultations--for free.
"LawZam is like speed dating for the legal world," says Co-Founder Claudio Dunkelman. "Our unique platform gives you the ability to video chat with a lawyer, and keep talking if it's a match. If not, you are able to initiate chats with different lawyers through the site until you find one that fits your needs."
LawZam differentiates itself from online legal services that help consumers prepare and file legal documents. "Most legal problems are too complicated to be automated," says Dunkelman. "Areas like criminal and injury law require personal counseling, and our video conference technology helps to establish a level of trust." The LawZam service provides consumers with free initial legal consultations from participating attorneys. The website will be supported by advertising, and LawZam plans to announce premium services in the future.
Licensed attorneys can register a profile and use the service as a platform to market their practice and develop new clients. LawZam welcomes lawyers and small law firms struggling to compete in an online marketplace dominated by large firms with hefty marketing budgets, and online legal document services that seek to eliminate personal attorney services. For law school graduates entering an economy where many law firms are not hiring, LawZam offers the opportunity to connect with clients and start practicing.
Users of the LawZam website can video conference on a Mac or PC with no download required. Participants must have a high-speed Internet connection and a webcam. LawZam has also developed a mobile application that will be released in fall 2012, which will enable consumers to video conference with attorneys over smart phones and tablets.
LawZam is an online legal service committed to increasing access to legal assistance by providing a platform for the public to receive free legal consultations by video conference.
For more information, please visit https://www.LawZam.com.