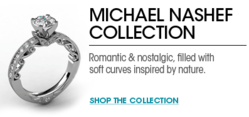 Michael's passion for jewelry design is reflected in the latest collection that he created just for Diamond Nexus
(PRWEB) June 26, 2012
Michael Nashef, creator of the Intersecting Hearts ring collection for Diamond Nexus will be visiting both Diamond Nexus retail locations on Saturday, June 30, 2012. The one-day tour will give customers a chance to meet and speak directly with the jewelry designer.
"Michael's passion for jewelry design is reflected in the latest collection that he created just for Diamond Nexus," commented Brianne Smith, District Manager of Retail. "Customers are obviously impressed by our new line of affordable engagement rings. We are seeing many more requests to see his collection, and especially with rings like the Sara Michael and Maya Costa. Their designs are elegant and appeal to everyone."
"Customers are welcome to visit either of our retail locations for this very special event. It is the perfect opportunity for anyone who is interested in one of the new rings to come check them out and meet the talented designer behind them," stated Smith.
Michael Nashef will be at the Diamond Nexus Mayfair Mall store from 11-1pm CST. The address for the store is 2500 N Mayfair Rd, Wauwatosa, WI 53226. The store phone number is 414-858-1317.
He will be visiting the Diamond Nexus Woodfield Mall store from 4pm-6pm CST. The address is 5 Woodfield Mall, Schaumburg, IL 60173. The store phone number is 847-517-2542.
To view the new Intersecting Hearts Collection, visit Diamond Nexus at: http://www.diamondnexus.com/engagement-rings-michael-nashef
Diamond Nexus was founded in 2004 with the purpose of bringing to the public the powerful benefits of the lab-created diamond simulant revolution. They have over 250,000 customers worldwide that have awarded them an "A+" rating with the BBB, and are the ninth largest online jewelry retailer in America according to the 2011 IR500 list. For two years in a row brides from The Knot have selected them as their Best of Jeweler. Diamond Nexus currently has two retail locations: their flagship store at Woodfield Mall in suburban Chicago, Illinois, and a second store at Mayfair Mall in Milwaukee, Wisconsin. In 2009 the company was named the official jeweler and crown maker of the Miss Universe Organization as part of NBC/Universal's "Green is Universal" environmental initiative.