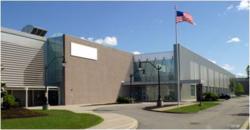 Boston, MA (PRWEB) June 26, 2012
Hackman Capital and Calare Properties are pleased to welcome their first tenant to the state-of-the-art manufacturing facility located at 112 Barnum Road in Devens, Massachusetts. The impressive solar panel manufacturing plant, constructed by Evergreen Solar in 2010, came into the hands of Hackman and Calare in April of this year. Now just two months into their joint venture ownership, the companies have signed a lease with a North American business of Saint-Gobain. The French multi-national corporation, which is taking over about half of the Devens building, plans to invest $31 million in the facility and hire 90 new employees to manufacture a component of light emitting diodes, or LEDs, for one of its divisions, Saint-Gobain Crystals. Production is expected to begin early 2013.
"Thanks to our extensive network, we learned that Saint-Gobain was looking for a premiere property with significant, high-capacity infrastructure. The building was a perfect fit," said William Manley, President of Calare Properties. "We're excited to have the facility occupied and operating so soon after its purchase, and we're thrilled that Saint-Gobain will be bringing new jobs to the community."
In fact, according to Manley, there is no other facility in New England that can better suit the needs of high-tech manufacturers like Saint-Gobain. The unrivaled construction and quality design result in a facility with incomparable power, impressive ceiling heights up to 35 feet, and a redundancy of services and systems to ensure users 100 percent uptime. Unique features include air compressors, air abatement systems and emergency diesel generators, as well as internal water waste treatment, chemical bunkers, gas distribution and water-cooling systems.
"This property offers tenants substantial intrinsic value," said Michael Hackman. "To replicate the infrastructure alone would require massive investment." In addition to world-class industrial accommodations, Hackman explained, the facility also offers a coveted New England location, situated within the Barnum Business Park, four miles west of Route 495 and two miles north of Route 2, just 35 miles outside Boston.
"We are thrilled to have Saint-Gobain as a tenant. In a very short time, we've established a great relationship with the company and look forward to their success in the building," Hackman said.
Hackman Capital and Calare Properties will be marketing the unique features of the building in order to fill its remaining 200,000-plus square feet. "With the upswing of the greater Boston area industrial market, along with the growth of the area's high-tech corridor, we don't anticipate having to wait long," Hackman said.
To spearhead leasing efforts, the companies have hired CBRE New England's Robert Gibson and Ed Jarosz as exclusive listing agents for the building. The CBRE team also represents several other properties for Hackman and Calare. The two firms jointly manage more than 26 industrial properties with over 11 million square feet of net rentable space in key New England distribution markets, as well as New York, Pennsylvania, Colorado and Texas.
More about Hackman Capital
Hackman Capital is a privately-held investment firm specializing in industrial real estate and equipment. Founded in 1986, the company has been a principal investor in more than $800 million in real estate and has conducted equipment transactions on four continents. Hackman Capital currently manages for its affiliates more than 14 million square feet of real estate across the United States, including 50 buildings and 950 acres of developable land. The company is based in Los Angeles. For more information, visit http://www.hackmancapital.com.
More about Calare Properties
Calare Properties, Inc. is a real estate investment manager serving institutions and high net worth individuals. Since 2000, Calare has organized five private equity funds and several joint ventures to acquire and redevelop value-added real estate investments. Today, Calare has over $150 million of equity under management, which is invested in a diverse portfolio valued at over $600 million. Calare has a proven track record of acquiring, redeveloping, and disposing of underperforming commercial real estate assets. For more information, visit http://www.calare.com
More about Saint-Gobain
Located in 64 countries and headquartered in Paris with nearly 195,000 employees, Saint-Gobain, the world leader in the habitat and construction markets, designs, manufactures and distributes building materials, providing innovative solutions to meet growing demand for energy efficiency and for environmental protection. For more information about Saint-Gobain, please visit http://www.saint-gobain.com.
About Saint-Gobain in North America
Saint-Gobain has its North American headquarters in Valley Forge, Pennsylvania. As the world leader in sustainable habitat, Saint-Gobain is committed to inventing solutions to help professionals and communities around the world build and renovate comfortable, healthy, economical and energy-efficient buildings. The company has more than 265 locations in North America and approximately 19,000 employees. In the United States and Canada, Saint-Gobain reported sales of approximately $7.7 billion in 2011. In the state of Massachusetts, Saint-Gobain has approximately 2,000 employees. Saint-Gobain's worldwide Crystals business, of which the Devens plant will be a part, is headquartered in Hiram, Ohio.
Saint-Gobain's family of companies in North America includes CertainTeed Corporation, which offers the most comprehensive portfolio of interior and exterior building products in North America, as well as Saint-Gobain Abrasives, Saint-Gobain ADFORS, Vetrotech Saint-Gobain North America, Saint-Gobain Glass, Saint-Gobain Solar, Saint-Gobain Performance Plastics and more.
Saint-Gobain is the proud recipient of the 2012 ENERGY STAR Sustained Excellence Award by the U.S. Environmental Protection Agency, the highest level of recognition for outstanding contributions to protecting the environment through energy efficiency. For information about Saint-Gobain in North America, visit http://www.saint-gobain-northamerica.com
About Saint-Gobain Crystals
Saint-Gobain Crystals is a world leader in the design and manufacture of ionizing radiation detection materials and instruments, photonic components and mono-crystals, as well as fused quartz and silica products The products are used in a broad spectrum of industries including medical imaging, and diagnostics, industrial applications, oil exploration, semiconductors and lithography, health physics, astronomy and astrophysics.