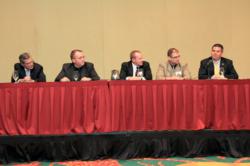 "Simply put, this bill is about saving the lives of students and setting a leading example here in Pennsylvania, in hopes that other states will follow" said Pennsylvania Representative Mike Vereb regarding House Bill 1610.
Lancaster, PA (PRWEB) June 28, 2012
The 32nd Pennsylvania Athletic Trainers' Society (PATS) Annual Meeting and Clinical Symposium was held at the Marriott Lancaster – Downtown and Convention Center from June 7-9, 2012. Pennsylvania is the first state to enact a law addressing Sudden Cardiac Arrest in the student athlete population. PATS lead the discussion during the Sudden Cardiac Arrest Forum in which PATS invited House Bill 1610 sponsor Pennsylvania Representative Mike Vereb, James Weber, Michael Meyer, MS, ATC, LAT, of California University of Pennsylvania, Larry Cooper, MS, ATC, LAT of Penn Trafford High School and PATS Secondary School Committee Chair and Darren Sudman of the Simon's Fund to discuss the latest issues.
The Honorable Senator Robert (Tommy) Tomlinson and Paul G. Slocum where inducted into the Pennsylvania Athletic Training Hall of Fame at Annual Meeting and Clinical Symposium. Dr. Linda Platt Meyer (California University of Pennsylvania) and Linda Fabrizio Mazzoli (Optipower Global Enterprises) won PATS Distinguished Merit Awards. Stefanie Loh (Harrisburg Patriot News) and Henry Michael (Hank) Fijalkowski (Millersville University) won the 2012 PATS Service Awards. PATS also awarded four scholarships to Megan Inama (Kings College), Matthew Meredick (University of Pittsburgh), Kathryn Niebel (Slippery Rock University) and Layci Watts (Lock Haven University).
At the PATS Business Meeting, Dr. Yvette Ingram of Lock Haven University assumed the role of PATS President. Yvette is the 20th President in PATS history and succeeds Greg Janik of Kings College, who during his term oversaw historic advances including Licensure of Athletic Trainers.