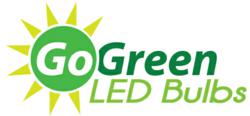 The sale begins Thursday June 28th and continues through Sunday July 8th and will consist of a 20% discount on all orders over $100.
Chicago, IL (PRWEB) June 28, 2012
Brighten up the 4th of July with LED light bulbs. Go Green LED Bulbs is hosting an online sale for the upcoming holiday. The sale begins Thursday June 28th and continues through Sunday July 8th and will consist of a 20% discount on all orders over $100. The sale applies to all products offered by the company on their website, http://www.gogreenledbulbs.com. The company provides free shipping on orders priced $50.00 and higher, and will continue to do so throughout the sale. Purchases are shipped via UPS or USPS within one business day of placing the order and typically take between five to seven business days to arrive.
The A19 LED bulbs that Go Green LED Bulbs provide are ideal for residential lighting purposes. They fit into already existing incandescent lamp fixtures. A variety of color options are available including warm white, soft white, and daylight white. The warm white color provides the same color of lighting that traditional incandescent light bulbs do, but last significantly longer. The Kobi Electric 60 Watt Equivalent LED Light Bulb, one of the company's most popular light bulbs, has a bulb life of 25,000 hours and only uses 11 watts to operate, making them extremely energy efficient. The bulbs are able to dim, allowing for desired levels of brightness and the small amount of energy required to operate LED bulbs will conserve energy and save on monthly electric bills.
Go Green LED Bulbs also offers a T8 shaped LED light bulb that replaces the typical fluorescent tube lights that are outfitted in most office buildings. The daylight color emits a bright light that is ideal for task lighting and is said to increase productivity in the workplace. The T8 LED bulbs have a lifespan of up to 50,000 hours and therefore require very little maintenance. Unlike fluorescent tube lights, LED tube lights do not contain any mercury, or other harmful chemicals, that make them hazardous when broken or difficult to dispose.
Go Green LED Bulbs contains an assortment of LED light bulbs for outdoor use. The PAR LED light bulbs are often used as floodlights and will add the perfect amount of light to this summer's outdoor barbecues. The flood lights emit a wide beam of 110 degrees. A few of the outdoor light bulbs can also be placed in indoor lighting fixtures, such as recessed downlighting and retail display. Other bulbs that can be used outdoors are S11 and S14 shape bulbs, and come in a variety of colors that are a great addition to holiday decorations for any time of the year.
The 50 watt equivalent LED Bug Repellent Light Bulb that Go Green LED Bulbs sells is a necessity for nightly outdoor activities and only requires 2 watts to operate. The color of light emitted, a yellowish color, does not attract bugs, unlike other incandescent light bulbs, but will sufficiently light up a porch or patio. Insects are not attracted to yellow lights because they can only see certain colors of light, making these light bulbs ideal for outdoor lighting fixtures over doorways or garages to prevent insects from sneaking into homes.
Go Green LED Bulbs is a leading distributor of energy efficient products including LED light bulbs, exit signs, flashlights, and more. Located in Round Lake Beach, IL, Go Green LED Bulbs works hard to inform the consumer so they can make the best decision on what LED lighting products are right for their residential or commercial space.