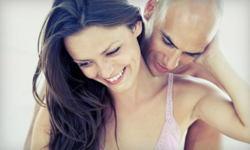 Number of "Adult" items on Amazon: 60,000
Boston, MA (PRWEB) June 27, 2012
DomainAdvisors.com, a leading broker of ultra premium domain names, announced today that AdultToys.com and Dildos.com domains are exclusively available for sale with their firm.
The AdultToy industry has historically not been deemed socially acceptable by the mainstream media. This is no longer the case, due in part to the erotic trilogy by E.L.James. Hailed by most major booksellers as one of the blockbuster novels of all time. "When the first installment of the 50 Shades of Grey trilogy out sells Harry Potter as the fastest selling paperback of all time it is easy to say, this is now a more than acceptable genre of media. A novel best known for it's use of whips and chains going mainstream is a testament to how comfortable our society is with admitting that these things are not only are around, but that we are fascinated by them." –Uloop.com.
While E.L. James and her trilogy have given the adult products industry quite a boost, they are not necessarily entirely responsible for the resurgence of this market. According to The Bermen Center, Society for the Scientific Study of Sexuality, Amazon.com and Durex:
*Annual world wide AdultToys revenue: 15 Billion USD
*Percent of women between the ages of 18 and 60 who have used AdultToys: 44%
*Percent of adults globally who have reported using AdultToys: 23%
*Number of "Adult" items on Amazon: 60,000
"We have seen this digital strategy time and again. Companies leveraging the value of the perfect generic domain representing their industry into an unfair competitive advantage. Look at Cars.com, and Weather.com. Each are leaders of their respective industry. Cars.com is the largest Automobile marketplace on the net and Weather.com is by far one of the largest weather services on the net. They might not even offer the greatest service, but the name becomes so engrained with the public that they do not even think of another option. Consumers become comfortable and trusting of these brands overnight. In the AdultToys business security and privacy is everything. AdultToys.com and or Dildos.com will likely propel the owner into becoming an industry leader and fully established business overnight," says DomainAdvisors President, Jeffrey M. Gabriel.
For additional information or offer guidelines on Dildos.com and AdultToys.com, please contact Jeffrey M. Gabriel at +1 508 689 9569, ext. 701 or Jeff(at)domainAdvisors(dot)com
About DomainAdvisors
DomainAdvisors assists domain owners and online businesses in the overall planning and execution of their domain strategy. DomainAdvisors offers resources with the knowledge and understanding necessary to provide invaluable guidance during the entire lifecycle of a domain. Services range from consultancy to acquisitions, to all elements of monetization, development, branding and sales. Domains can be complicated and DomainAdvisors provides the opportunity to leverage years of industry experience to help maximize success.