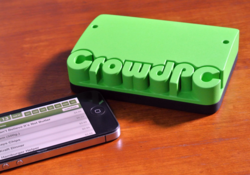 This is a value proposition that eclipses today's Windows based systems.
Nashville, Tennessee (PRWEB) June 26, 2012
Today, CrowdPC, Inc. announces the public unveiling of its completely new business computing platform for small businesses. The CrowdPC platform consists of an on-site wireless computer, a suite of business software applications, and an online data center, all working together to dramatically improve usability and flexibility, and decrease costs and complexity compared to Windows-based small business systems.
Developed quietly over a six-year period, the CrowdPC computer platform has been designed to leap ahead of the 25-year old Windows based approach now used in businesses around the world. Using state of the art hardware and software technology, CrowdPC delivers PCI and HIPAA compliant security, data safety, all commonly used small business software, real-time off-site backup, and easy connections to smartphones, tablets, and other customer and employee devices at a price of $299.
"We are incredibly happy to finally be able to go public with this once-in-a-generation computing project," says Jack Campbell, CEO of CrowdPC. "Our global team of project contributors has worked for 6-years to deliver this ground-breaking new platform to small businesses everywhere. To be able to provide all of the hardware and software a business needs for only $299 is a revolution. To do it with complete security and with easy integration of today's sea of mobile, touch, and web enabled devices is unimaginable. This is a value proposition that eclipses today's Windows based systems."
According to Ryan Quinn, the company's lead software developer, the new computing solution combines all new hardware, all new software, and a unique online services system to enable small businesses to have more flexible, secure, and capable computing usability than any current approach, at a cost of under $300.
"CrowdPC moves the cloud computing platform down from the Internet and runs it directly inside local businesses," says Quinn. "This provides all of the benefits of cloud computing, such as no software maintenance and regular updates, without having a company's data locked into a proprietary remote system like happens today. All of a company's data remains in-house, as well as backed up off-site for safety."
The new platform requires businesses to install the company's $299 CrowdPC, a tiny ARM chip-based wireless web server, on the business premises. All of the business's software will then run on that small computer, and be accessed by any wireless capable device in the facility — such as smartphones, tablets, notebooks, or desktop PCs. Software bundled in the CrowdPC includes point-of-sale, CRM, accounting, payment processing, and digital signage apps. Additional apps for any number of business uses will be available for download from the platform's online app store. Plus, the system works with existing USB or WIFi connected peripherals used in businesses, such as receipt printers, card readers, barcode scanners, cash drawers, pole displays, and more.
CrowdPC says it is publicly showing its system now, but will be working exclusively with its open source web application software developers and early accounts until it begins public sales of the platform in Q1 2013.
Starting today, web application software developers around the world can register to create business apps for CrowdPC at the company's crowdfunding project on fundable.com. Or, they can register through the company's web site at http://www.crowdpc.com.
CrowdPC is a Nashville, Tennessee based company revolutionizing small business computing with its inexpensive next-generation wireless computer platform.