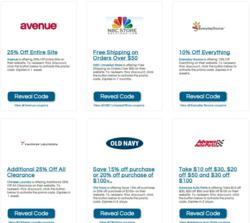 Real-time platform offers consumers with a unique way to access great discounts from top brands, moments before they expire.
Santa Monica, CA (PRWEB) June 28, 2012
Bluepromocode, a popular website for finding coupons and promotion codes, announced today the launch of its Last Minute Deals program. With thousands of coupons to choose from, the company is now highlighting the best deals with limited time to expiration, providing consumers with a unique channel to access great discounts before they expire.
Consumers can locate expiring deals such as Newegg promo codes, Brookstone promotions, or eSaleRugs coupons using this new feature. Last Minute Deals is a real-time system which highlights coupons from over 7,000 retail stores and brands. With this launch, Bluepromocode continues to lead the field of coupon destination sites with innovative, fun and useful features for shoppers looking to save money.
Bluepromocode's design philosophy is to combine a clean, fast and uncluttered experience with a world-class editorial team who filters and organizes thousands of coupons everyday, bringing the best deals to our consumers with an appealing and eye-catching interface. Bluepromocode utilizes advanced search features, including predictive search, as well as an intuitive coupon code caching feature that makes it easy for consumers to apply coupons while in the middle of their purchase flow.
"The most frustrating aspect of locating working coupon codes is the high percentage of codes that don't work," says site member Sally Frey of Huntsville, AL. "Bluepromocode is easy to use and all the coupons work which can save me the headache of going through lots of couponing sites"
Bluepromocode is based in Santa Monica, CA and is focused on providing a clean, fast and hassle-free experience for finding and applying coupons. The company offers retailers with a powerful platform for delivering coupons and special offers to consumers via a slick and intuitive user interface.