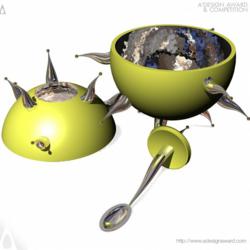 'Urchin' uses modern materials and inspiration from the natural world to bridge the gap between casual and fine dining with sculptural form and strong colours
Brighton, United Kingdom (PRWEB) June 27, 2012
A' Award and Competitions are proud to announce that the Urchin by Clive Bullivant has been selected as a winner of the prestigious Silver A' Design Award in Bakeware, Tableware, Drinkware and Cookware Design Category.
'Urchin' table cruet
Inspired by the sea, the Urchin design is for a family of tableware that could be bought seperately or as a set. It is unashamedly sculptural and designed to be a focal point of any dining table. Using well established materials and technologies it is a functional and eyecatching product that would be a talking point for any gathering of friends whilst being equally at home at more formal dinner parties. More info could be found at http://www.CNBconcepts.co.uk
About Clive Bullivant
Clive Bullivant is a designer and teacher based in Uckfield Sussex. He began his career as a silversmith winning high profile awards in this field and exhibiting internationally. Eager to contribute to future generations of designers he qualified with a PGCE in Art and Design and is currently still head of the Design Technology faculty at the Weald of Kent Academy. Operating in a wide spectrum of design he still maintains professional links with the silversmithing industry and won silver and gold awards for design in 2009 and 2011 respectively from the highly regarded Goldsmiths' Craft and Design Council. He recently started CNBconcepts to support creative design development and has proven his wider ability with four awards in the prestigious international 'A' Design Competition. His focus has always been on design quality whatever the product and he endeavours to bring visual interest and fun to any product he designs.
About A' Design Award and Competitions
A'Design Award and Competitions, aims to highlight the excellent qualifications of best designs, design concepts and design oriented products. A' Design Award and Competitions are organized and awarded annually and internationally in a multiple categories to reach a wide, design-oriented audience. Further information could be accessed from http://www.whatisadesignaward.com