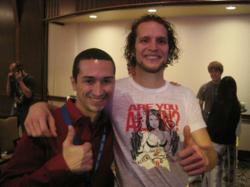 95% of the 1,200 members at the "No Wussies" convention in Atlanta stated that they were making money with Empower Network.
Phoenix, AZ (PRWEB) June 28, 2012
Empower Network started in October of 2011 and is a growing movement of online entrepreneurs who are fed up with massive loads of time-consuming work not paying off. To fix this problem, the founders, David Wood and David Sharpe, have created a simple formula to where blogging and marketing daily have made members thousands of dollars and many of them are making money online for the first time. From June 8-10th, E.N. had is first convention in Atlanta at the Omni Hotel, right across from the CNN Center.
At many business conventions, there's usually lots of selling that goes on; what makes Empower Network unique is that doesn't happen. In fact, members who attend convention must sign a waver, agreeing to not pitch their businesses to other members during convention. For example, the only thing the author purchased there was just a ticket to the next convention, which will be in San Diego in September. Only Empower Networkers can attend conventions, which means is that they must join Empower before attending.
All what members need to get into Empower Network with is $25 for basic membership. The only thing they need to do is blog at least once or twice daily, market, and read a few pages a night of a good book and spend a little time listening the recorded audios, all within a couple hours. Marketing strategies used are Facebook marketing, video marketing, article marketing, press releases, solo ads, or whatever strategy and budget suits the member. Since the author began using Empower Network in May, he has gotten leads for the first time since he began online marketing two years ago. His personal blog can be found here.
When David Sharpe was asking if anybody was making $200K and "stand up" if they were, only Lawrence Tam stood up. As Sharpe called out the lower numbers he was going down, more and more members stood up until finally, by the time he got to "Whomever has made $25, stand up!!!" By then, 95% of the room had stood up. The only people who get into Empower Network are those who aren't "wussies". Latest Income Disclosure can be found here.