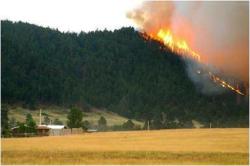 "If it weren't for the markings on the engine, you wouldn't know the difference", Jim Furlong, former USFS Region 6 Asst. Fire Operations Director.
Lyons, OR (PRWEB) June 27, 2012
Many National Wildfire Suppression Association member companies are on the front lines assisting with wildfires in Colorado and other Western States. "Our members alone can rapidly provide a workforce of over 10,000 highly trained and qualified wildland firefighters, and firefighting equipment to assist with agency efforts to protect life, property and our environment," said Deborah Miley, Executive Director for the National Wildfire Suppression Association. "While we have many resources on the firelines now, many more from across the US stand ready to assist once the call for resources goes out."
"We have been partnering with the federal and state agencies for over 25 years through agreements to provide cost effective resources which meet or exceed the highest agency standards in training and qualifications to assist with wildfire suppression efforts, and many of our members have decades of wildfire experience within their ranks", said Rick Dice, President of the National Wildfire Suppression Association
NWSA Member companies and their firefighters are trained to work under the Incident Command System which is the best Emergency Response System in the world and gives the agencies the ability to provide swift response to wildfires and staff the fire up rapidly if the agency determines that is appropriate. You can view more information about the private fire industry by watching our video.
The National Wildfire Suppression Association represents over 250 private wildfire suppression companies across the US. Our members can field up to 165 - 20 person type 2 hand crews, 32 Type 2 IA National hand crews, over 600 pieces of water handling equipment, kitchen and shower units, and a cadre of other resources with a workforce of over 10,000. These resources are call when needed that makes us a great value to the agency and the taxpayer. As Jim Furlong, Retired USFS Region 6 Assistant Fire & Aviation Director said, "If it weren't for the markings on the equipment you would not be able to tell the difference."