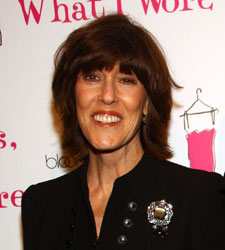 New York, NY (PRWEB) June 27, 2012
On June 26, TheaterMania reported that award-winning playwright and author Nora Ephron has died in New York City at age 71 due to pneumonia brought on by acute myeloid leukemia.
Ephron wrote the Broadway play "Imaginary Friends", about the feud between Lillian Hellman and Mary McCarthy, and was most recently represented on stage as the co-author of "Love, Loss, and What I Wore". In addition, she had written the play "Lucky Guy", about journalist Mike McAlary, which has been eyeing a Broadway run.
She was a noted essayist, author, screenwriter, and filmmaker, whose many works include "Heartburn", "Julie & Julia", "You've Got Mail", "Sleepless in Seattle", "Silkwood", and "When Harry Met Sally".
She is survived by her third husband, Nicholas Pileggi, her sons, Jacob Bernstein and Max Bernstein, and her sisters Delia Ephron, Amy Ephron, and Hallie Ephron.
For more up-to-the-minute theater news, show listings, video, features, reviews of Broadway Shows and tickets visit TheaterMania.com.
About TheaterMania.com, Inc.
TheaterMania.com is the information and ticketing source for over 5,000 shows nationwide. For over ten years, TheaterMania.com has connected the theater community to the public as the leading online resource for consumers to find shows, get tickets, and save money to theater nationwide. TheaterMania.com publishes comprehensive show listings, provides discount Broadway tickets, editorial content, and video coverage for over 40 markets and widely distributes free email newsletters and special offers to over 675,000 registered subscribers. In addition, TheaterMania.com creates online marketing programs for performing arts organizations, and provides technology to power ticketing, fundraising, and CRM through its proprietary software, OvationTix.