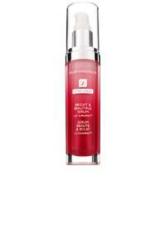 Lotusine and Vitamin C deliver an effective one-two punch to fade the pigmentation that ages the appearance of the skin.
Houston, TX (PRWEB) June 29, 2012
Avalla, LLC announces that it has added Bright & Beautiful Serum to its powerful line of Ultra Care+ anti-aging skincare products. The serum's revolutionary key ingredient Lotusine, derived from Lotus Flower Root Extract, works below the stratum corneum to effectively control pigmentation, lighten and brighten skin tone, and heal and hydrate the skin. Independent studies show that this light, quickly absorbing serum reduces age spots and pigmentation by up to 50 percent in 28 days to reveal a brighter, refreshed and younger looking complexion.
"Lotusine and Vitamin C deliver an effective one-two punch to fade the pigmentation that ages the appearance of the skin," explains Avalla founder and CEO Pamela C. Dean. "This amazing product safely evens out, clarifies and adds radiance to your skin tone while you sleep." Avalla is a Houston, Texas-based direct selling company that offers botanically-based skincare, anti-aging, beauty and wellness products, along with an entrepreneurial opportunity that includes unlimited income potential, flexibility and the freedom to have one's own business without high start-up or overhead costs.
Bright & Beautiful Serum is suitable for all skin types and for anyone who loves to keep their skin free from sun-induced, age-related or hormonal pigmentation. It is particularly effective for those with light complexions and freckles.
The lotus is actually a member of the legume family and has a beautiful flower that looks like a water lily.
It is native to Asia and Australia, and is revered in Asian cultures as a plant of renowned beauty.
Bright & Beautiful Serum can be used in tandem with other products in the Ultra Care+ skincare line: Anti-Wrinkle Retinol Serum with Vitamin A and Retinol, Facial Peel Crème with Glycolic and Salicylic Acids, Firming Serum with Vitamin C and Biopeptides, Ultra Care Moisturizing System with Hyaluronic Acid and Evening Primrose Oil, and Vitamin Oil for hair, skin and nails.
About Avalla:
Avalla offers an extraordinary line of botanically inspired beauty and wellness products that are safe, naturally sourced and offer excellent value to customers. By combining the purest ingredients that the earth has to offer, along with state-of-the-art product formulations perfected by science, Avalla combines the best-of-the-best products, people and technology to attract the next generation of leaders, consultants and customers. The company prides itself on creating a heart-based family of successful entrepreneurs who are dedicated to assisting others in achieving a financially secure lifestyle and empowering them to believe in themselves. Avalla is a member of the Direct Selling Association, and adheres to and supports their code of ethics. To learn more, visit http://www.avalla.com.
Avalla president and founder Pam Dean is available for media interviews. To schedule an interview, contact Gina Mazza at 724.316.4751 or email ginamazza(at)me(dot)com.
E-photos are also available.