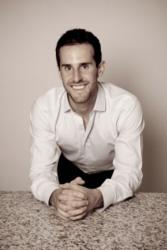 "Many types of headaches and migraines actually have their origin in the neck. When there is stress present in the top of the spine, it sends stressed signals back up into the head, which can result in migraines or other types of headaches."
(PRWEB) June 28, 2012
With June marking National Migraine Awareness month, Dr. Josh Wagner, founder of the Life House in New York City, announced he will be offering complimentary consultations throughout the end of June and throughout July for those suffering from this debilitating, frustrating and painful condition.
"The causes and treatment of migraines are all too often misunderstood, misdiagnosed and mistreated," says Wagner, the only Manhattan chiropractor specializing in Torque Release Technique, a drug-free, safe and natural treatment for migraines and other chronic pain disorders. "It's essential to look closely at everything, but also specifically focus on your neck and your spinal alignment."
Wagner says triggers that can cause migraines include overuse of headache medication (called a rebound headache), fasting, stress, pollution, noise, smoke, flashing lights and certain types of food -- coffee, chocolates, yellow cheese, foods high in monosodium glutamate and alcohol – which stress the nervous system.
Dr. Wagner is creating greater awareness for migraine sufferers who have not yet found a solution or relief. His all-natural and 100% gentle approach has the potential to dramatically alter the symptoms migraine sufferers deal with on a daily basis.
Those interested in a consultation can call The Life House – located at 19 East 71st Street, Suite 5a, on the Upper East Side in New York City -- at 212.876.3286.
Dr. Wagner adds that navigating the long, often confusing list of possible treatment options available for the often debilitating pain and other symptoms like dizziness, nausea, vomiting, and light and sound sensitivity, can be as painful as the symptoms themselves. He says traditional medicine all too often ignores the root causes that actually lead to migraines, or turns to prescriptions to merely manage the pain and not actually correct the problem.
"At the Life House, we look at migraines from a cervicogenic perspective," says Wagner. "This means that many types of headaches and migraines actually have their origin in the neck. When there is stress present in the top of the spine, it sends stressed signals back up into the head, which can result in migraines or other types of headaches."
Dr. Wagner also recently released a series of free, downloadable eBooks and protocols for healthy living, including:

"Access: Nutritional Transformation" a comprehensive, healthy eating guide which is available at The Life House website.
"Freedom From Fibromyalgia" is a free, downloadable 50-page eBook and a Fibro-focused website http://www.drjoshwagner.com which address the widespread misconceptions about the chronic pain condition and help sufferers find relief and healing for their condition.
The "Dr. Wagner Anti-Aging System" – an extraordinary, easy-to-follow program that will significantly enhance your body's natural ability to rejuvenate at a cellular level, so you'll look and feel younger, more vibrant and enjoy a greater sense of well-being. For more information on Wagner's anti-aging system, contact The Life House at 212.876.3286.
DrJoshWagner.com also features informative new videos, updated treatment protocol, research and information, and offer a community forum for people affected by Fibromyalgia, where visitors can go for support and to share their own treatment ideas, success stories, and more.
The Life House Chiropractic also helps individuals and families dealing with other conditions such as high blood pressure, chronic fatigue, anxiety, depression, migraines, attention disorders, and childhood illnesses. With Torque Release chiropractic care, whether it is an acute or chronic condition, your body will get well naturally.
For more information, contact The Life House at 212.876.3286. Also see The Life House on Facebook and Twitter.
ABOUT DR. JOSH WAGNER: Wagner is the founder of The Life House Chiropractic, and he was mentored in Torque Release Technique by its founder, Dr. Jay Holder, and graduated from New York University with honors and earned his doctorate in Chiropractic at Life University in Atlanta, Georgia. Wagner is a native New Yorker raised in Chappaqua.
The Life House Chiropractic : 19 East 71st Street, Suite 5a, New York, New York 10021 : 212.876.3286 : info(at)lifehousechiropractic(dot)com or visit http://www.lifehousechiropractic.com