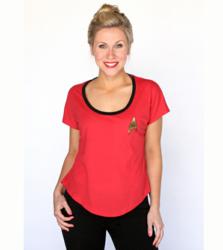 It is truly a dream come true for me to design for this iconic brand," said Her Universe founder Ashley Eckstein. "We plan to Boldly Go where no one has gone before with the first ever Star Trek apparel line just for women.
New York, NY (PRWEB) June 28, 2012
For the first time in Star Trek's 46-year history, one company is focusing exclusively on the female fans of the legendary space adventure. Her Universe™, a leader in female genre merchandise, announced its new license with CBS Consumer Products to create a collection of apparel and accessories for the growing female Star Trek fan base.
With a limited debut July 11th at San Diego's Comic Con and online at Heruniverse.com, the Star Trek by Her Universe line will feature fashion tops and hoodies rolled out over the course of the year highlighting images, characters and phrases from the Star Trek franchise. To recognize the female fans of Star Trek, CBS Consumer Products has created a unique Star Trek logo which will only appear on merchandise from the Her Universe collection.
Ashley Eckstein, no stranger to the sci-fi universe, is the founder of Her Universe and is known to sci-fi fans as the voice of Ahsoka Tano on the hit animated series, Star Wars: The Clone Wars. Eckstein, who started the company because she could not find sci-fi apparel for herself, designs and creates the Her Universe merchandise.
"Star Trek has been one of the most requested Sci-Fi franchises from our fangirls," said Eckstein. "It is truly a dream come true for me to design for this iconic brand. We plan to Boldly Go where no one has gone before with the first ever Star Trek apparel line just for women."
Star Trek apparel and accessories from the Her Universe collection will be available in the U.S. and Canada at both HerUniverseshop.com and store.startrek.com and through national retail outlets such as Hot Topic. The Star Trek By Her Universe merchandise line will also be available at select conventions including its premiere at San Diego Comic Con (July 12th-15th at the San Diego Convention Center).
About Her Universe
Her Universe was launched in 2009 by actress and entrepreneur Ashley Eckstein, and her partner, The Araca Group, known as one of the most innovative theatrical production and merchandise companies in the world. Her Universe was created to directly address the expanding market of female fans by entering into its first agreement with Lucas Licensing to develop and produce a line of female-centered Star Wars apparel and accessories. The success of that line was followed up with a collection for the Syfy network including such shows as Battlestar Galactica and with BBC America for its Doctor Who franchise. You can learn more about Her Universe and purchase the current line of fangirl apparel and accessories by going to http://www.heruniverse.com and by following Eckstein on Twitter at https://twitter.com/HerUniverse and visiting the Her Universe Facebook page at http://www.facebook.com/HerUniverse.
About CBS Consumer Products
CBS Consumer Products manages worldwide licensing and merchandising for a diverse slate of television brands and series from CBS, CBS Television Studios and CBS Television Distribution, as well as from the company's extensive library of titles, Showtime and CBS Films. Additionally, the group oversees online sales of programming merchandise. For more information, visit http://www.cbsconsumerproducts.com.
™ & © 2012 CBS Studios Inc. All Right Reserved. STAR TREK and related marks are trademarks of CBS Studios Inc.