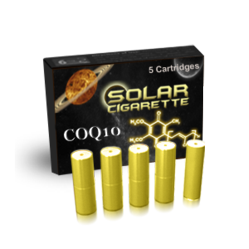 Get access to your own personal smoking buddy to help you stay committed and offer the VIP service you deserve while making the switch to a better lifestyle.
Miami, Florida (PRWEB) June 30, 2012
There is a new way of smoking that doesn't require a lighter or tobacco to be burned for that matter and it goes by the name of Solar Cigarette electronic cigarette. Smokers have always tried to quit smoking but were unable to because of the nicotine cravings were too overwhelming. Now Solar Cigarette offers smokers a chance to fight nicotine cravings and lose weight with the help of their vitamin packs.
"The ever so life changing Solar Cigarette vitamin B pack is a one of it's kind cartridge pack, which allows smokers to receive their daily vitamins and nicotine with every puff. While many people think that vitamins are similar in structure and perform a similar function, the truth is that each vitamin B-complex vitamin has a unique chemical structure and serves a unique function within the body in this case helps smokers lose weight."
Read more at: solarcigarette.com
A representative of SolarCigarette.com states that our smokeless cigarettes help smokers fight the 2 main issues that comes with trying to quit smoking and they are the nicotine cravings and weight gain. The Solar Cigarette helps smokers by giving them the same satisfaction of smoking real cigarettes but instead of inhaling nicotine they are inhaling healthy vitamins when they use our Vitamin packs.
Learn More About The Solar Cigarette Vitamin Packs