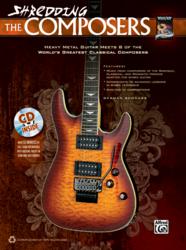 Los Angeles, CA (PRWEB) June 27, 2012
Alfred Music Publishing, the official print music publisher of thousands of popular artists, songwriters, and composers, releases Shredding the Composers, a collection of classical pieces from 8 of the world's greatest classical composers taught through a heavy metal perspective in both standard notation and TAB, produced in partnership with the National Guitar Workshop.
From the renowned shred guitarist German Schauss, Shredding the Composers features 10 intermediate to advanced level classical pieces and lessons in shred technique using some of the most brilliant and virtuosic music of all time. The pieces feature music written during the baroque, classical, and romantic periods from composers like Bach, Beethoven, Handel, Vivaldi, Mozart, Chopin, and more. Perfect for shredders of any era, the works included take on a whole new life when adapted for heavy metal guitar and provide theoretical analysis to help guitarists apply the techniques to their own compositions and soloing.
Every piece is accompanied by a musical analysis to further enhance innovative techniques and ideas to stretch guitar playing to new limits. The accompanying CD features all of the examples, along with backing tracks at different tempos to help you practice and get you on your way to mastering this challenging repertoire. A notation key is also included for a quick reference on musical terms and markings.
German Schauss is a guitarist, composer, author, and educator who teaches at Berklee College of Music and the Los Angeles Music Academy. He performs and tours as the leader of his own band and with other internationally known artists. German writes music for commercials, TV, and video games, and has been named one of the 50 fastest guitarists of all time by Guitar World magazine.
The National Guitar Workshop is dedicated to bringing the best in music education to guitarists, bassists, keyboardists, drummers, and vocalists regardless of style of music or level of ability. Their highly developed courses foster meaningful experiences through performance instruction and supportive learning environments.
Shredding the Composers (00-39378) is now available for $16.99 at music retail stores and at alfred.com/guitar.
Titles: Ode to Joy (Beethoven) * Symphony No. 5 (Beethoven) * Lascia Ch'io Pianga (Handel) * Meditation (Massenet) * The Four Seasons, Presto (Vivaldi) * Minuet in G Major (Notebook for Anna Magdalena Bach) * Etude Op. 10, No. 2 (Chopin) * Turkish March (Mozart) * Eine kleine Nachtmusik (Mozart) * The Flight of the Bumblebee (Rimsky-Korsakov)
REVIEW COPIES AVAILABLE UPON REQUEST
ABOUT ALFRED MUSIC PUBLISHING
Alfred Music Publishing is the world's largest educational music publisher. Alfred produces educational, reference, pop, and performance materials for teachers, students, professionals, and hobbyists spanning every musical instrument, style, and difficulty level. Alfred's home office is located in Los Angeles, with domestic offices in Miami and New York as well as offices around the world including Australia, Germany, Singapore, and the United Kingdom.
Since 1922, Alfred Music Publishing has been dedicated to helping people learn, teach, and play music. Alfred currently has over 90,000 active titles. Alfred represents a wide range of well-known publications—from methods like Alfred's Basic Guitar, Alfred's Basic Piano Library, Premier Piano Course, Sound Innovations, and Suzuki, to artists like Led Zeppelin, The Rolling Stones, Bruce Springsteen, Van Halen, Green Day, Sheryl Crow, Eagles, Cole Porter, and George and Ira Gershwin, to brands like Star Wars, Harry Potter, Lord of the Rings, Rolling Stone Magazine, and Billboard.
In addition to its own titles, Alfred distributes products from over 50 companies, including Belwin, Daisy Rock Girl Guitars, Dover Publications, DW Drums, Faber Music, Highland/Etling, Kalmus, National Guitar Workshop, Penguin, TASCAM, Ultimate Support, and WEA.