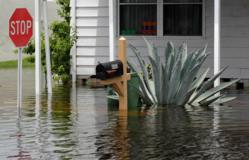 With its mold remediation products...users can deliver a treatment that leaves no residue harmful to health.
St Petersburg, FL (PRWEB) June 29, 2012
High mold removal cost is sure to hit Florida's residents in the coming weeks. That's because after tropical storm Debby soaking the state, mold threats are sure to come next. Reaching out to the flood victims, Molderizer.com advised the preparation and use of its non-toxic mold remediation products.
Get a Sample of Molderizer's Non-Toxic Mold Removers
Basically, mold growth is triggered by moisture. And with water everywhere due to flooding, for sure, Florida's residents will soon face mold presence.
Keeping an area dry all the time is the best method to keep mold away. However, in cases as flooding when moisture can't be prevented, mold growth is expected. And to beat it and prevent the worse of its consequences, one must prepare mold remediation products for an immediate mold treatment, said Molderizer.com.
Quick response to mold presence results to reduced mold removal cost. Nonetheless, only if the right mold remediation products are used, said Molderizer.com. Those right mold products, it said, are the ones that offer not only effective but also safe treatment process. And those kinds of solutions are exactly what it offers, it added.
Basically, Molderizer.com is a green online company. It used natural ingredients in the formulation of its mold solutions. Hence, they are safe.
Discover More About Molderizer and Its Great Offers
Nonetheless, a company representative stated that despite the absence of strong chemicals, their products remain effective. The large companies to which the products used to be only available to can prove that true, he added.
With its mold remediation products, Molderizer for mold elimination and Safe Shield for mold prevention, users can deliver a treatment that leaves no residue harmful to health. That spares the people exposed to them from respiratory illnesses. And because they are safe and particularly odorless, evacuation from the area of treatment in no longer needed.
Apart from that, the solutions also leave no possibility of mold re-growth. The reason is that they break down the DNA of the spores to ensure complete elimination. That prevents repeating mold treatments. Hence, mold removal cost is lessened.
To prove how well Molderizer and Safe Shield work, the company is giving out complimentary samples of them.
Grab a Sample for Yourself and See Molderizer and Safe Shield in Action