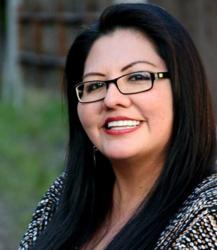 "Many American Indian stories have long been told about 'us', now it's time for us to tell the true stories about 'us'."
Pamela Peters, Navajo filmmaker
Los Angeles, CA (PRWEB) June 29, 2012
Pamela J. Peters is an award-winning American Indian filmmaker from the Navajo tribe with a degree in American Indian Studies and Film, Television and Digital Media from the University of California, Los Angeles (UCLA). Peters' mission is to incorporate an Indigenous aesthetic to her film-making with a focus on bringing contemporary culture-driven stories to the forefront in a non-stereotypical platform.
Shí Má, or "My Mother" in the Navajo language, explores the two worlds of an American Indian gay man. Shí Má brings alive the story of a Navajo gay man, or Nádleeh, as he seeks to reconcile with his mother despite her refusal to accept him as her child and rejection of his sexual preferences. The film, written by Peters, centers on the Nádleeh who feels torn and disconnected due to familial prejudice against same sex relationships.
Peters wants to bring to light the strong bond that American Indian families have and the connection many tribal people have to their cultural teachings and way of life. "American Indian stories can have an impact on the community and can foster a better understanding of the individual differences between American Indian peoples," said Peters. From this, Peters hopes the film inspires more culturally relevant studies to help people understand these differences and become more tolerant. "Tolerance is vital for the advancement of the American Indian community and society as a whole," said Peters.
Peters presents a compelling video pitch describing her vision and an opportunity for individuals to support the Shí Má film project to bring awareness and cultural understanding of the Nádlee and the strong tribal connection to family.
LGBT American Indian community member John Muir and Los Angeles Red Circle Project members Elton Naswood and Michelle Enfield offer support for Peters and the importance of the film in the Kickstarter video pitch.
Peters' Shí Má Kickstarter effort runs through Friday, July 20, 2012. Visit the site at [http://www.kickstarter.com/projects/pamelajpeters/shi-ma-a-short-film-0 __title__ Shi' Ma' Kickstarter Campaign]
The money raised through the Kickstarter campaign will cover costs for the camera equipment rental, props, set design, permits, acquiring set locations as well as paying (and feeding) the cast and crew. All investors have the opportunity to have their names attached to a film that will help transform Peters' dream into reality and help the American Indian LGBT community.