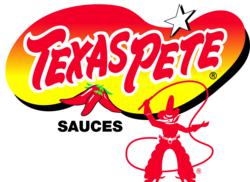 Winston-Salem, NC (PRWEB) June 27, 2012
At Summer X Games in Los Angeles this week, spectators are invited to retreat from the heat of the Southern California sun and visit Texas Pete® at their booth, located in X Fest Village between the Staples Center and Nokia Live.
Texas Pete®, returning to Summer X for the third consecutive summer, will once again be providing fans with 1.9 ounce samples of their award-winning Texas Pete® Original Hot Sauce.
Fans taking advantage of the chance to get their hands on Texas Pete® Hot Sauce won't miss a single minute of the X Games action as Texas Pete will be providing a live feed on flat panel monitors in addition to being available on ESPN.com and Facebook at Facebook.com/TexasPete.
The Texas Pete® tent will also be the place to be to see all the stars that the "City of Angels" has to offer, as multiple X Games gold medalists Pierre-Luc Gagnon and Ryan Nyquist will be on hand to sign autographs. In addition to Gagnon and Nyquist, Ken Block -- championship rally car racer and founder of DC Shoe Company -- will appear at the Texas Pete tent as will other X Games athletes, courtesy of Rockstar Energy Drinks.
Spectators also will be able to pick up "expression signs" -- upon which they can write a message for their favorites action sports athletes, free of charge courtesy of Texas Pete.
The Texas Pete® tent at X Fest is free and open to all X Games spectators from 10 a.m. until 7 p.m. Thursday, June 28 through Sunday, July 1.
"We are excited to be back in Los Angeles in our continued support of the exceptional action sports athletes competing in the Summer X Games," said Glenn Garner, director of marketing for TW Garner Food Company, the makers of Texas Pete® Hot Sauce. "This marks the third consecutive year that the Texas Pete family of sauces has attended Summer X and it continues to get better every summer. It is an event that we are proud to support and one that we look forward to each year."
About TW Garner Food Company (http://www.texaspete.com)
Headquartered in Winston-Salem, North Carolina, TW Garner Food Company is famous for its Texas Pete® Hot Sauce, the number three brand of hot sauce in the United States. Founded in 1929 as a maker of barbecue sauce, the company now sells a full line of hot sauces, wing sauces and seafood sauces under the Texas Pete® brand, as well as salsa and tortilla strips under the Green Mountain Gringo® brand. Texas Pete® and Green Mountain Gringo® products are sold in supermarkets, military commissaries, convenience stores and restaurants throughout the United States. In 2010, Green Mountain Gringo® Salsa was named best overall salsa by Epicurious, among 20 retail salsas that were tested.