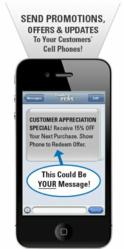 Digital Sales & Marketing, LLC is looking for committed sales professionals with a record of success in their careers or lives..."
Kansas City, MO (PRWEB) June 28, 2012
Digital Sales & Marketing (DS&M), LLC has an exceptional entry-level career opportunity for intelligent and driven sales professionals looking for an exciting career in an innovative industry. DS&M, a sales agent for CloseBy Text Marketing, is building sales teams in greater Atlanta, GA and greater Kansas City, MO and KS.
Sales teams will receive thorough product training with continual professional development, coaching and support. The CloseBy Text Marketing program is priced within reach of every business no matter how small and is fully supported by a personal Text Marketing Specialists for every customer. This program creates an opportunity for businesses to take advantage of one of the hottest trends in digital advertising, mobile technology and social media, with individual small business marketing and sales savvy.
Digital Sales Specialists will become part technology ambassador, part small business marketing consultant, and part professional sales representative to family-owned businesses, franchisees and independent merchants who form the backbone of the community. The practical and highly effective CloseBy Text Marketing product consistently drives profitable sales for businesses year around. It is a small business game changer!
The rapid launch of this cutting edge mobile marketing program in Atlanta and Kansas City requires strong, enthusiastic salespeople who can quickly and effectively demo the power of text marketing; develop expertise in selling the single most powerful marketing campaign they can use to drive sales; and step up to become managers and leaders. This business is expected to grow at least five fold over the course of the next 12 months as it has done in several other states. DS&M is looking for committed sales professionals with a record of success in their careers or lives, who can identify great prospects, and win business.
Closeby Text Marketing tools successfully drive profits for hard working clients.
To learn more about the positions in Kansas City, please contact Megan Hartwig and for the positions in Atlanta, please contact Paul Hamilton (contact information detailed above).
About CloseBy Text Marketing:
The company was started in 1997 as a publisher of single-town telephone directories, and has evolved into a publisher and Text Marketing firm serving over 50,000 small business advertisers. The company revolves around providing local businesses with the most cost effective and innovative marketing programs giving businesses the best ROI.