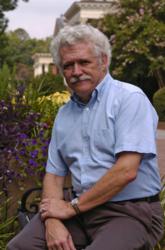 [My physician] has an open, friendly, soft-spoken demeanor that GIST patients find comforting and reassuring. ... He listens attentively and doesn't talk down to me like the other oncologist did.
Miami, Fla. (PRWEB) June 28, 2012
The Sarcoma Alliance announced today that three doctors -- Gina D'Amato in Atlanta, Jonathan Trent in Miami and Peter Anderson in Houston -- had won its Outstanding Care Awards.
"Wow, this is so amazing. I am truly honored by this recognition," said Trent, M.D., Ph.D., a sarcoma medical oncologist at Sylvester Comprehensive Cancer Center at the University of Miami. He moved there last year from the M.D. Anderson Cancer Center in Houston.
He was nominated by Kenneth S. Saladin, Ph.D., a distinguished professor of human anatomy at Georgia College and State University in Milledgeville. Saladin was diagnosed with a gastrointestinal stromal tumor in 2010. GIST is one of the many subtypes of sarcoma, a rare cancer of connective tissue, including bone and muscle.
Saladin said a consultation with Trent saved him from a surgery much more extensive than the one he ended up having.
"He has an open, friendly, soft-spoken demeanor that GIST patients find comforting and reassuring," Saladin said. "He listens attentively and doesn't talk down to me like the other oncologist did, but discusses my case in terms commensurate with my level of medical understanding and makes it easy for me to understand the things beyond my prior knowledge.
"Most of my consultations with Jon are, I think, only 20 or 30 minutes long, yet I always leave feeling all my questions and concerns have been addressed. He never watches the clock or makes me feel he needs to get on to the next patient."
Saladin said he would probably present the award to Trent in September.
Karen Lee of Little Rock nominated Anderson, M.D., Ph.D., a pediatric oncologist at M.D. Anderson Cancer Center in Houston. She recently returned from there, where she spent a week helping children and families she had met while her son Keaton was in treatment. He died from osteosarcoma at age 16 in 2010.
"From our first visit with Dr. Pete, both Keaton and I were amazed at the difference from the medical dealings we had been accustomed to. The first thing Dr. Pete did when he came into the exam room was to pull up a chair and sit down. Our doctors before never sat, and were always seeming anxious to run back out the door ... no time for questions. Dr. Pete went over all of Keaton's scans we had brought, and thoroughly informed us of all findings. I learned more in that one visit with him about test and scan results than I had been able to find out in the whole seven months of my son's treatment so far.
"Dr. Pete made a personal connection with my son, and informed him that they had the same birthdays and found out all about his herpetological interests. He spent 2½ hours talking with us, and answering any and all questions, including Keaton's questions on the best place to search for lizards around Houston. Keaton and I were both so impressed with his knowledge and caring manner that we made the difficult decision to leave our home and move to Houston, where we could have the care of what we felt was the very best doctor in the field of osteosarcoma."
Lee plans to present the award to Anderson at an ice-cream social in late July or August. "I know at least a dozen others who would leap at the chance to share their testimonies of the excellent care and outstanding compassion they have experienced from this dedicated doctor," she said.
Suzie Siegel of Tampa nominated Gina D'Amato, M.D., who will open her private practice in Atlanta next month. Previously, she worked at Moffitt Cancer Center in Tampa and as director of sarcoma medical oncology at Emory University in Atlanta.
Both women are board members of the Sarcoma Alliance, based in Mill Valley, Calif. D'Amato said she would make her award celebration a fundraiser for the national nonprofit organization. Siegel wrote about her former doctor at http://sarcomaalliance.blogspot.com/2012/03/nominate-excellent-health-care.html
The Alliance created the awards this year, and other health-care professionals -- such as nurses and social workers -- also are eligible, Siegel said. For more information on nominating someone, go to http://sarcomaalliance.org/news/outstanding-care-awards/ Nominating letters also will be posted there.
With the motto "You Are Not Alone," the Alliance connects sarcoma patients with one another, she said. It also provides information as well as grants to reimburse patients who can't afford a second opinion.
People need to see an expert in sarcoma, Siegel said. "But an expert who respects and cares for patients will make their quality of life that much better."