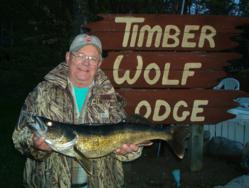 General Manager Steve Branstrom says "there's quite a buzz here at the lodge when these lunkers arrive at our dock."
Ely, Minnesota (PRWEB) June 28, 2012
Ely Minnesota newspaper reports lunkers in North Country Angler Contest. "It was a big week for Timber Wolf Lodge and Bear Island Lake"
When Timber Wolf Lodge was chosen as an official registration station by the Ely Echo Newspaper no one knew Bear Island Lake would produce back-to-back prize winning fish. But when Sharra "Rusty" Brown felt that unmistakable strike at the end of her line she knew that she was in the fight of her life. An experienced northlander, "Rusty" has tangled with big fish before. But this epic 40 minute battle produced a prize winner – a 20 pound, 4 ounce northern pike.
That fish in any normal year would have been enough of a fish story to last Timber Wolf Lodge an entire season. But just a few days later lightning struck twice.
Experienced pike fisherman, Brent DeMuth, arrived at the docks of Timber Wolf Lodge with a big smile on his face and an even bigger fish in his live well. This time Timber Wolf Lodge registered a 16 pound pike in the North Country Angler's contest.
General Manager Steve Branstrom says "there's quite a buzz here at the lodge when these lunkers arrive at our dock. I will sometimes get a call from the guys while they are still on the boat saying 'we'll be there in 5 minutes, get the scales ready'. As word travels around the resort most of the staff and many guests greet the heroes at the dock waiting to see what emerges from their live well."
And this dockside show seems to be getting more-and-more popular. Recent entrants in the weekly contest include Sharon Ogren of Lester Prairie, MN, who registered her 24.75" walleye. Frank Demange from Cloquet, MN, entered and won the Ely Echo's contest with his 17 pound 8 ounce catch. And Vicki Nelson of Iowa City, Iowa released a 19" large mouth back into the clear blue waters of Bear Island Lake.
Asked about the lake's success Timber Wolf Lodge owner, Roger Bruhn says "our lake has the fortune of being held in high favor with the MN Department of Natural Resources. They chose to restock our lake with 900,000 walleye fry every other year dating back to 2003. So by 2011 fully 4,500,000 walleye have been released here. And with the popularity of catch & release the fish just keep getting larger. We expect that our official registration station for the Ely Echo Newspaper will continue to produce contest winning fish".
The DNR posts the results of its activity on Bear Island Lake online. And in a single sampling they discovered 48 northern pike that measured up to 20 inches, 12 more that topped the tape measure at up to 30 and still 3 more were even larger.
And the results of the walleye fishery release program? In the same single day survey they uncovered 34 walleye up to 14", 19 more up to 19", 9 walleye up to 24" and 2 that were larger still. The walleye is the state fish of Minnesota.
The DNR report of Bear Island Lake explains that "the major inlet, Beaver River, has a walleye spawning run in the spring and has rapids and beaver dams, which limit fish movement. The outlet, Bear Island River, has an old dam that limits fish movement at low water."
Bruhn explains that "just about all of our guests depart our docks in search of their own fish story. Take a quick read of our guest journals and they are filled with the one that was landed, the one that got away and – more touching – the granddad that was there to watch his grandchild continue this northern Minnesota tradition."
The hundreds of guest photos in the resort lobby prove the point.
Ely Minnesota is known as the gateway to the Boundary Waters Canoe Area Wilderness, a 1,090,000 acre wilderness sanctuary where motors of every type are banned. The continental divide that runs in between Lake Superior and the Hudson Bay runs directly through the Boundary Waters. Ancient peoples once lived in the solace of this preserve and their hundreds of pictographs and petro glyphs are viewed by thousands of visitors each year that travel to the BWCAW via canoe or kayak.
Photos of some of Timber Wolf Lodge's prize winning registrations can be found at the Ely Resort website. More information about the Boundary Waters Canoe Area Wilderness can be viewed at http:// http://bwca.com or http://ely.org.