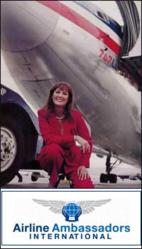 "I am thrilled that ITMI has given us the opportunity to expand the reach of AAIs training to front line workers in the tourism industry around the world," says Nancy Rivard.
San Francisco, CA (PRWEB) June 28, 2012
Airline Ambassadors International (AAI) http://www.airlineamb.org in partnership with the International Tour Management Institute (ITMI) http://www.itmitourtraining.com/ has launched a series of educational programs that empower professional tour directors, tour guides and hospitality industry workers to recognize and prevent human trafficking.
"Human trafficking is the fastest growing business in the world and the most important human rights issue of our time. Every year millions of women and children are sold into slavery," states Nancy Rivard, founder and president of AAI. "Airline Ambassadors experienced team has developed a unique curriculum, which gives travel and tourism professionals the skills to recognize and report human trafficking. This has already helped to save thousands of people from enslavement."
"ITMI is working closely with AAI to provide professional tour directors, guides and tourism industry workers with this important skillset," says Ted Bravos, CEO of ITMI. "Tourism industry workers are on the front lines, with proper instruction they can identify and help to stop human trafficking. ITMI is proud to offer this valuable education to tour directors, guides, bus drivers and other tourism industry workers."
What is Human Trafficking:
Human Trafficking is a crime against humanity. It involves an act of recruiting, transporting, transferring, harboring or receiving a person through the use of force, coercion or other means, for the purpose of exploiting them. Exploitation of others for profit includes:

Forced labor
Sex trafficking
Debt bondage
Child sex tourism
Child pornography
Involuntary domestic servitude
Child marriage
Child soldiers
Infants for illegal adoption
Harvesting of organs
Organized begging rings
Inaugural Training in San Francisco:
The first formal human trafficking awareness training program for ITMI tour directors and guides and hospitality industry workers was conducted on Friday May 11th. In the future, every ITMI class will receive human trafficking awareness education. Every ITMI graduate will be soon be given online access to this curriculum, so that the thousands of ITMI tour directors around the world will be aware of the telltale signs of human exploitation and report it to the appropriate authorities.
About ITMI:
Since 1976, ITMI has been the premier training and certification institute for travel and tourism professionals. For more information about ITMI contact Annemarie Osborne (415) 957-9489 or Annemarie(dot)osborne(at)gmail(dot)com or visit: http://www.itmisf.com.
About Airline Ambassadors International:
Airline Ambassadors International (AAI) is a 501(c) (3) non-profit organization founded by airline employees. It is affiliated with the United Nations and recognized by the U.S. Congress. Members provide international relief and development to under-privileged communities worldwide. As the only non-governmental organization of the airline industry, AAI has hand delivered more than $60 million worth of humanitarian aid and provided escorts and medical care to children in 51 countries. AAI is also building safe houses for children, the most likely targets for human traffickers, at seven locations in Haiti. For more information about Airline Ambassadors contact Nancy Rivard, nancy(at)airlineamb(dot)org 415-359-8006 or visit: http://www.airlineamb.org
# # #