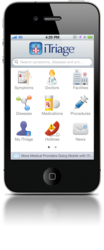 Our partnership with Infinity HealthCare allows us to provide a valuable resource through iTriage to the members of our community by facilitating access to medical care and information
Wisconsin Rapids, WI and Denver, CO (PRWEB) June 29, 2012
In response to the growing number of smartphone users, Riverview Medical Center has partnered with iTriage® – a one-stop health care app that lets consumers quickly and easily access information about symptoms, diseases, procedures and directions to nearby emergency departments.
Infinity HealthCare, the Midwest region's premier provider of Emergency Department Management services, has brought iTriage to Riverview Medical Center. An iTriage partnership with Infinity HealthCare was announced in a press release earlier this year.
"At Riverview Medical Center, we recognize the importance of connecting with our patients when they have an immediate medical need," said Celse Berard, President. "Our partnership with Infinity HealthCare allows us to provide a valuable resource through iTriage to the members of our community by facilitating access to medical care and information."
As a free resource to the community, iTriage lets users find critical facility information like services provided, specialties, hours and directions. iTriage also lets users do the following:

Search medical symptoms and conditions
Lean about possible causes and treatment options
Get medication refill and appointment reminders added to personal calendars
Access a nationwide database of every medical provider in the country
"iTriage gives health care facilities a way to leverage mobile devices and wireless networks to provide better care for patients, and puts actionable information into the hands of consumers, including facility mapping, so they can easily obtain treatment," said Peter Hudson, M.D. co-founder of iTriage. "We recognize Infinity HealthCare and Riverview Medical Center for their innovation in adopting mobile solutions that improve health care delivery."
iTriage is available a free download from app stores for iPhone® and Android™ mobile devices, and is accessible from any Internet-enabled device at http://www.iTriageHealth.com.
About Riverview Medical Center
Founded in 1912 by concerned community leaders, Riverview Medical Center remains independent and owned by its community. Riverview has 69 inpatient care beds and provides a wide range of outpatient services.
About iTriage, LLC
iTriage LLC, headquartered in Denver, Colorado, is a global health care technology company founded in 2008 by two emergency medicine physicians. The company's market-leading platform and mobile/Web applications offer a proprietary Symptom-to-Provider™ pathway that empowers consumers to make better health care decisions. iTriage helps people answer the two most common medical questions: "What could be wrong?" and "Where should I go for treatment?" Millions of consumers around the globe have downloaded the free iTriage mobile app on their iPhone and Android devices, and thousands of health care providers use iTriage to reach and communicate critical facility and service information to patients. For more information, please visit http://about.iTriageHealth.com.