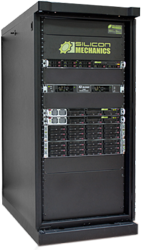 Bright is the cluster management solution of choice for scientists who prefer to focus on research.
San Jose, California (PRWEB) June 28, 2012
Bright Computing today announced that Bright Cluster Manager® 6.0 was selected as part of an HPC cluster research grant awarded to St. Louis University (SLU). The university is the winner of a high-performance computer cluster donated by Silicon Mechanics, and its vendor partners Bright Computing, AMD, Kingston Technologies, NVIDIA, QLogic, Supermicro and Seagate.
Bright Cluster Manager is increasingly the solution of choice for academic institutions looking to minimize system management efforts in favor of focusing on research. Bright provides a single, totally integrated solution for provisioning, scheduling, monitoring and managing clusters, all within a single graphical user interface (GUI) or via its Cluster Management Shell. Bright also automatically cloud-enables the university's cluster, making it easy to extend this system into Amazon EC2 for additional capacity, and manage these cloud resources as part of their local system.
SLU will use the next-generation hardware to support research in several academic departments: Digital Theology, Aerospace and Mechanical Engineering, Biology, Chemistry, Business and Computer Science. The Center for Digital Theology, for example, will research paleography, using the cluster to process large sets of digital images of pre-modern manuscripts. The Biology Department will more efficiently analyze the large amounts of data associated with studying climate change in the Andes Mountains, while the Aerospace and Mechanical Engineering Department will run simulations of parachute and cargo drops. Bright's image-based provisioning makes it extremely fast and easy to reconfigure the SLU cluster to best support the unique computing requirements of these departments.
The system awarded to St. Louis University is Intel Cluster Ready® certified, enabling the university to run a wide selection of HPC software without modification or testing.
About Bright Computing
Bright Computing is a specialist in cluster management software and services for high-performance computing (HPC). Bright's minimal footprint enables HPC systems to be utilized to their maximum potential, from departmental clusters to large-scale systems. Bright Cluster Manager is the management solution of choice for many research institutes, universities, and companies across the world, including several Top500 installations. Bright Cluster Manager is an official Intel Cluster Ready component and fully complies with the Intel® Cluster Ready specification.