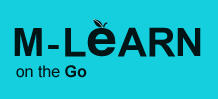 (PRWEB) June 30, 2012
M-LearnOntheGo releases mobile demo courses for public view. M-LearnOntheGo platform allows users to create courses using an easy editor that's as easy as 1-2-3 in any format and with any media including text/image, audio, video and blog in any order for all devices at once or customize the pre-built courses based on organizational needs.
M-LearnOntheGo mobile platform allows the learners to self-enroll and the manager to assign the courses and engage with them with text comment, audio, and video. Our analytic tool allows organizations to keep track of their learners with real-time learning activities.
The skill assessment tool allows the organizations to assess the skill gaps and close the gap with our pre-built skill assessments.
Employees will have access to their learning and performance support information with them regardless of place or time and the learning will take place with required information available to them when they need it. As a result, it increases productivity and improves performance.
M-LearnOntheGo allows the employees to reduce the volume of data to be remembered by having access to information anywhere they are and learn while working. Organizations can reduce the costs because it does not require that employees spend exclusive time on the training inside or outside the organization and by having to reuse the content again and again.
Imagine for a moment you want to share a comment or upload a video on Blog to communicate to your sales force that information about your new products is now available, which can be accessed via their mobile device.
Dynamic M-LearnOntheGo mobile platform offers radical technological support, while allowing you to deliver dependable and portable product information, inventory lists, job aids, checklists, motivational quick tips, just-in-time guides, how-to manuals, reference material and make it easy to access anywhere, anytime, and on any device.
M-LearnOntheGo tool's ability to reach a hard-to-reach, global or field workforce, on-the-go busy specific audience, not tied to desk looking for convenience, flexibility, and to fit their life style that could provide to fulfill a clear business and their needs.