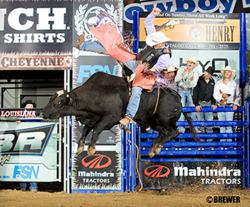 Fort Worth, Texas (PRWEB) June 30, 2012
Less than four weeks remain until the CINCH CBR Tour "Road To Cheyenne" reaches its final destination, Cheyenne Frontier Days. Only a few points separate the top 40 CBR riders in the CINCH standings from winning the ultimate prize.
Aside from the gold buckle and handsome $100,000 check that goes to the winner, is the moniker that will forever proceed a young man's name and fulfill a dream, "World Champion".
"It's something that never goes away," stated 2010 World Champion Luke Kelley. "They can't take it away, and it's yours to keep. You worked hard for it and when you see it in those newspapers and articles associated with your name, it feels really good."
Hundreds of bull riders travel thousands of miles each year in search of one thing. To become the next World Champion. At the end of the day, that's what all the hard work, time away from home, injuries, and sometime heartbreaking losses are sacrificed for, a title. Sure a shiny gold buckle and a pay check help, but it's the title that they all chase.
2011 CBR World Champion Clayton Foltyn adds, "You work hard for so many years, sometimes it's good, sometimes it's bad and whenever you can take home a check, especially a big check it feels great, but there is something way more special about winning World Champion, it's a feeling you can't describe."
Young boys dream of it, its fills their soul and they grow up envisioning all their lives what is will be like to be called "champ". Few ever accomplish it.
"Since I was a little boy I always wanted to win World Champion. For me, that day, surrounded by all my family and friends, well it's still hard to believe," remembers 2009 CBR World Champion Hugo Pedrero. "Even though I already won once, now the fire is stronger to continue to win more championships. I'm still living my dream."
So many riders this year have worked so hard, but ultimately only one will win. We soon shall see who the 2012 CBR World Champion will be.
Cheyenne Frontier Days begins July 20th through the 29th with the CBR World Championship July 23rd and 24th. More info-CFDRodeo.com – Ticket info, by phone: 800.227.6333
Now Seen On every Sunday
About CBR
Led by bull riding icon, Tuff Hedeman, Championship Bull Riding, Inc. (CBR) is a nationwide, professional bull riding organization. The CINCH CBR Tour events are professionally produced live shows designed to be an adrenaline rush the whole family will enjoy. Starting in May of 2012 the CBR can be seen on their new host network FOX SPORTS NETWORK (FSN) with over 26 weeks of gripping, primetime television seen by over 20 million viewers. Combined with its subsidiary tour, the Horizon Series, CBR will visit over 70 venues throughout the United States reaching more than 350,000 fans in live attendance this year. CBR is the home of THE REAL COWBOY SPORT™ - the best bull riders and bulls in the world. We are committed to the riders, the fans, corporate sponsors, and all those involved in the professional bull riding industry. For more information on CBR, please visit http://www.CBRbull.com or call us today at 817.626.BULL (2855).
Media Contact: Rave Marketing, (915) 544-9000