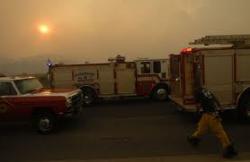 Tire Lyna is donating $5000 worth of Tire Lyna TCC to Colorado firefighters to keep their tires inflated while battling the Waldo Canyon wildfire.
North Vancouver, British Columbia (PRWEB) June 29, 2012
In the spirit of both Canada Day and Independence Day, Noorez Devraj, President and Founder of Lyna Manufacturing Incorporated announced today that he is donating $5000 worth of Tire Lyna TCC to Colorado firefighters to keep their tires inflated while battling the Waldo Canyon wildfire.
Tire Lyna is like a Swiss army knife for tires. It improves the integrity of the casing structure which can stop leaks, maintain inflation and keep industrial grade tires from going flat. Devraj hopes that Tire Lyna will be able to keep the fleet of fire trucks battling the blaze from suffering downtime.
Devraj is a seasoned philanthropist who got the idea for the donation after reading internet speculation that the blaze may have been started from sparks as the result of tire blowout. As the inventor and founder of Tire Lyna, he has spent ten years of researching, developing, and testing the product which is quickly becoming one of the worlds most sought after products for proactive transport fleets.
The company is North America's first green tire manufacturing product that is trusted in the real world to lower operating and fuel expenses for commercial drivers.
"Tire Lyna significantly reduces costs and saves money. Whether you are in trucking, agriculture, industrial, rental, mining, fire fighting or any industry that operates commercial tires, chances are you are struggling with down time, flats, low margins, high fuel costs, and high tire maintenance costs," said Devraj.
This is not the first time Tire Lyna has jumped into help local firefighters. They also provided assistance to Vancouver's Burns Bogs fire which helped local fire fighters to move in quickly without any flat tire downtime. Tire Lyna has also been used in several municipalities including the British Columbia Sheriff Department.
About Lyna Manufacturing Incorporated:
Lyna manufacturing manufacturers the world's best tire safety and tire casing care products, Tire Lyna TCC. Their mission is to produce and market cost-effective, environmentally-friendly tire safety and tire casing care that helps increase productivity of their customers while decreasing the volume of tires being prematurely discarded into landfills each year. Lyna Manufacturing contributes to the environment by reducing the carbon foot print, by extending casing life so less tires end up in the land fill and by using the best scientifically engineered biodegradable and non-toxic chemicals. Their Tire Lyna TCC product line is sold to Truck transport, OTR, Mining, Turf grass, RV's, Agri and private planes. To see what Tire Lyna can do for you, visit http://www.tirelyna.com.